Our 3 day tour in Timor-Leste from Dili to Jaco Island
The country Timor-Leste is not only new in being it's own independent country but they're also new to tourism. There are good and bad things about that. I went on a 3 day private tour with 2 other solo traveling girls. This was our trip.
Day 1 – Leaving Dili
We left the capital in the morning and drove east. The day before the trip we had talked to the woman owning the tour company and told her we wanted to see nature and to visit Jaco Island, Matebian Mountain and Wataboo beach. However once we were on the road our guide told us the itinerary and it was completely different, and only including Jaco island. We told him about our wishes so he changed the plans accordingly to our interests, as a guide does – even though his boss got angry for it. My guess is she lost some commission for not sending tourists to some of those places. That woman(the boss) is a completely different and long story – don't worry, I'll tell you all about it in another post. I might call it "How not to run a tour company".
Most of the first day was driving since the roads are bad and we wanted to make it all the way to the eastern most point of the country and back in only 3 days. However just cruising around in Timor-Leste is a pleasure. Since I was there just as the rainy season was coming to its end the landscape was unrealistically green. Almost glowing. Although, that also meant some of the roads had collapsed from heavy rain. Either way the views caused for  many photo stops but eventually we realized it was too pretty everywhere to stop all the way or we wouldn't get very far. Good practice for taking photos from a moving car.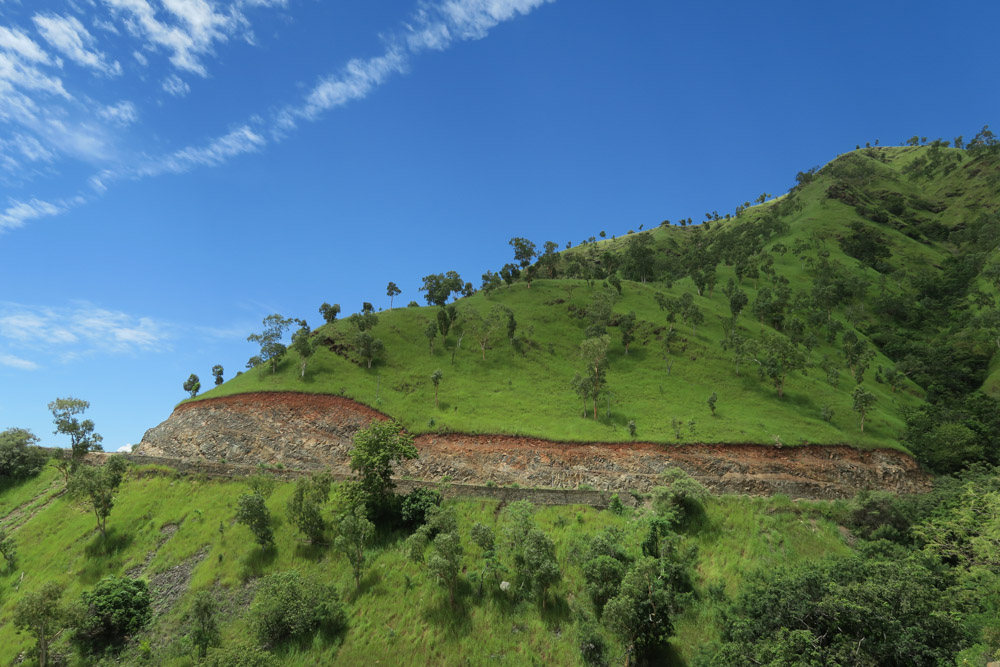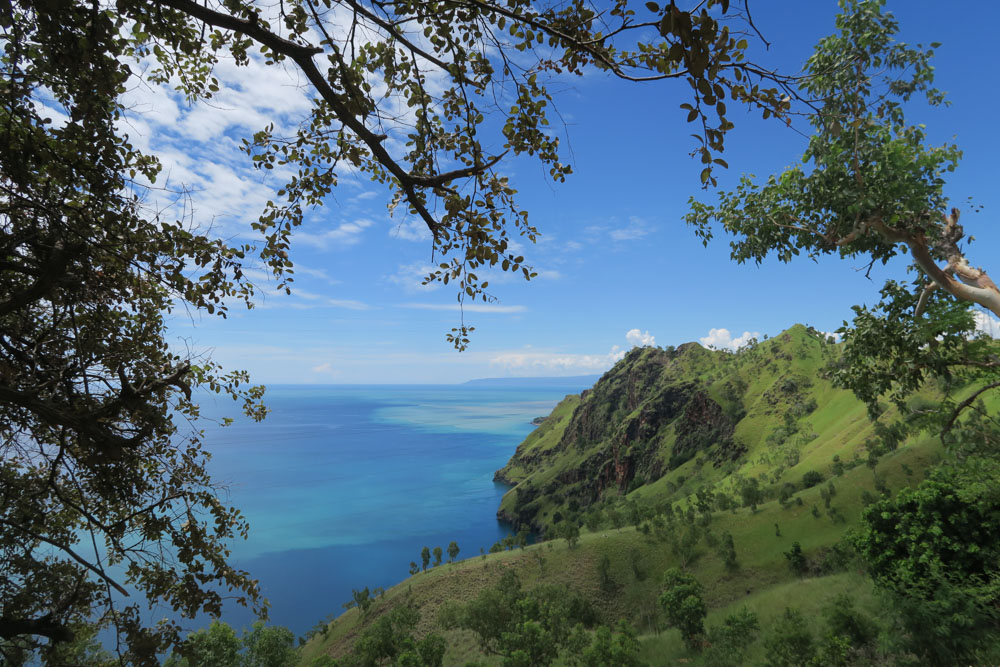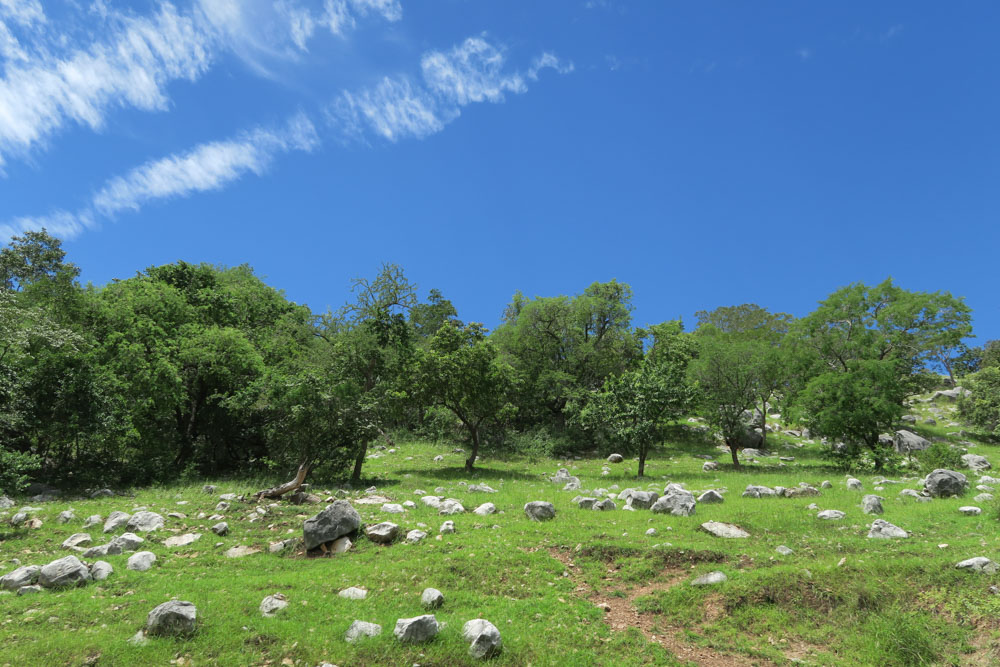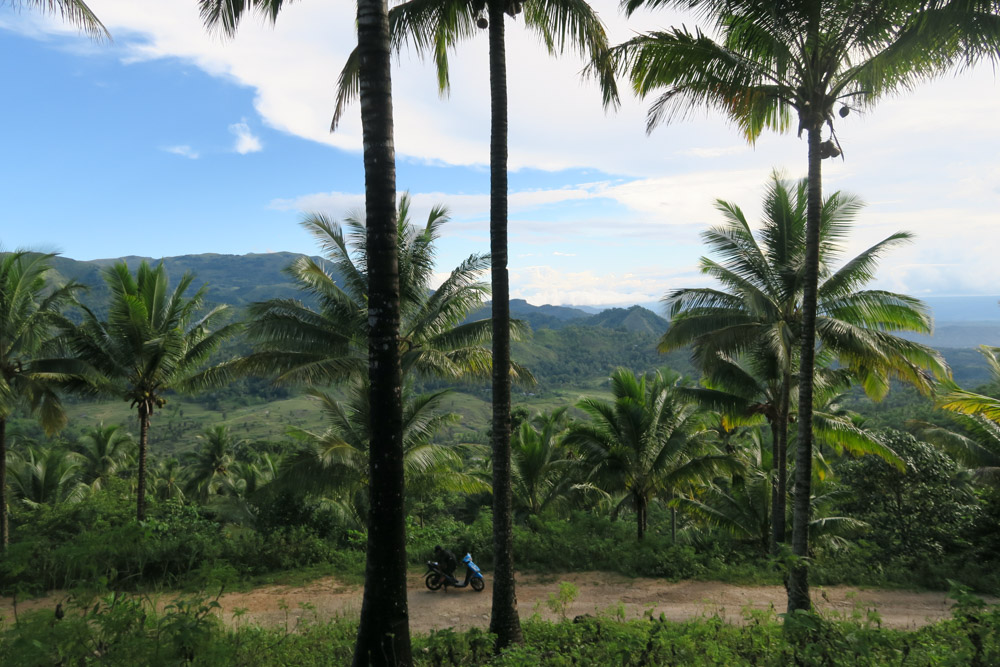 On our way up towards Matebian there was a new road so that was pretty exciting as the roads in the mountains are very bumpy. However we didn't get very far until a bus infront of us had stopped and the people going with it had gone out and scratching their heads. When we got close enough we saw that the road had collapsed – not partially but the whole shortside side to side which meant not even a scoter could cross. On our way back we admitted our defeat but then the driver told us that we could still take the old road. Said and done and after a couple of hours we arrived at the only guest house/homestay near Matebian Mountain. A simple room with a bed enough for 2 very close friends to sleep, a mosquito net and a toilet and shower with the bucket system was 20$(USD) a night. Simple homemade dinner and breakfast was 5$ per person in total. We got to help with making the dinner as well so we could see the vegetables as they were before cut up in pieces and fried.
Despite sitting in a car most of the day we were all knackered and went to sleep early. Good enough because the alarm would wake us up not too many hours later.
Day 2 – Matebian Mountain
To cram as much into our day as possible we got up in the crack of dawn to head up towards Matebian Mountain. Because of the rainy season so close behind we were not allowed to hike up to the top even if we would've had the time to do so. The climb was still gorgeous but I will most definitely come back and climb that summit. We did meet a group climbing to the top but they were from the tourism board of Timor-Leste so it was more to check out the conditions of the trek. But oh was I jealous!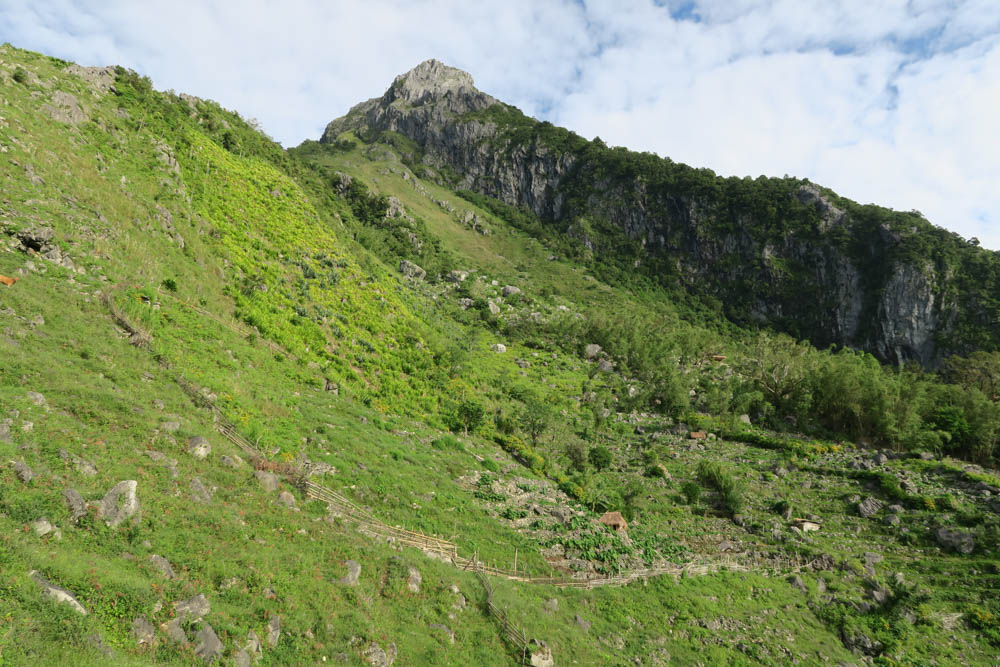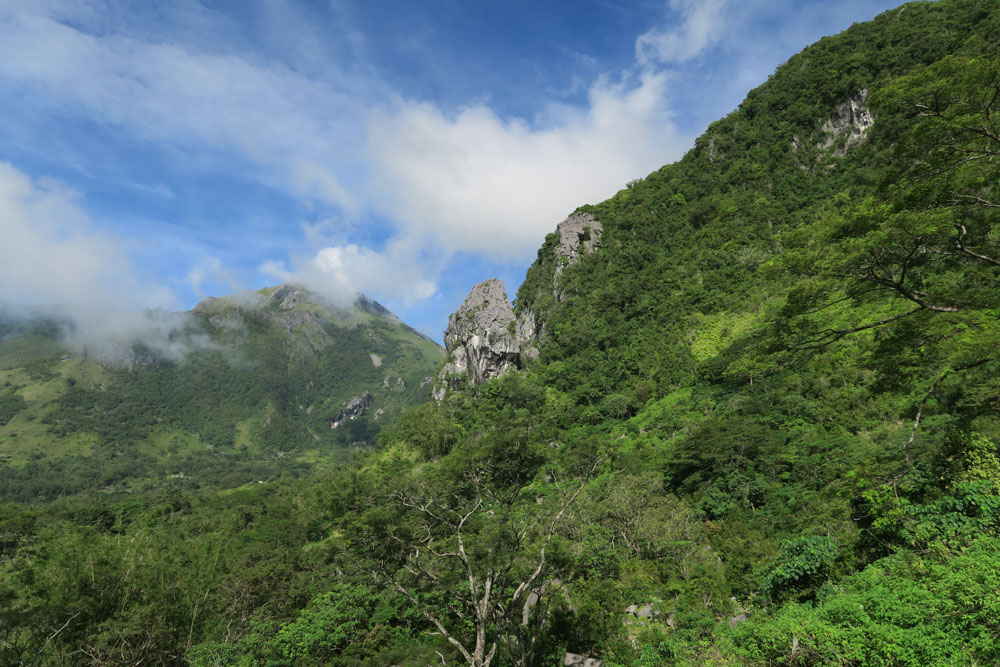 After too short a time we had to go back down. Breakfast was waiting for us at our guest house and we had a long drive to our next destination, Com.
Com is a beach town in Timor-Leste that used to have a beach resort, but to help the tourists money go to the locals and not a foreign entrepreneur the government helped locals fund guest houses to run the resort to the ground. I'm all for tourism to go back to the locals, but the guest houses was very overpriced as there weren't options you had to take what you got. This is the case with a lot in Timor-Leste.
We had a few hours to relax and then we walked along the street in the small town before getting ready for a show at night that the locals had put together for us and the Japanese comedian who was there with her film crew. There were typical Timorese dancing and music and after the shows the locals went down to the water by the beach to catch some sort of sea worms that were eaten raw.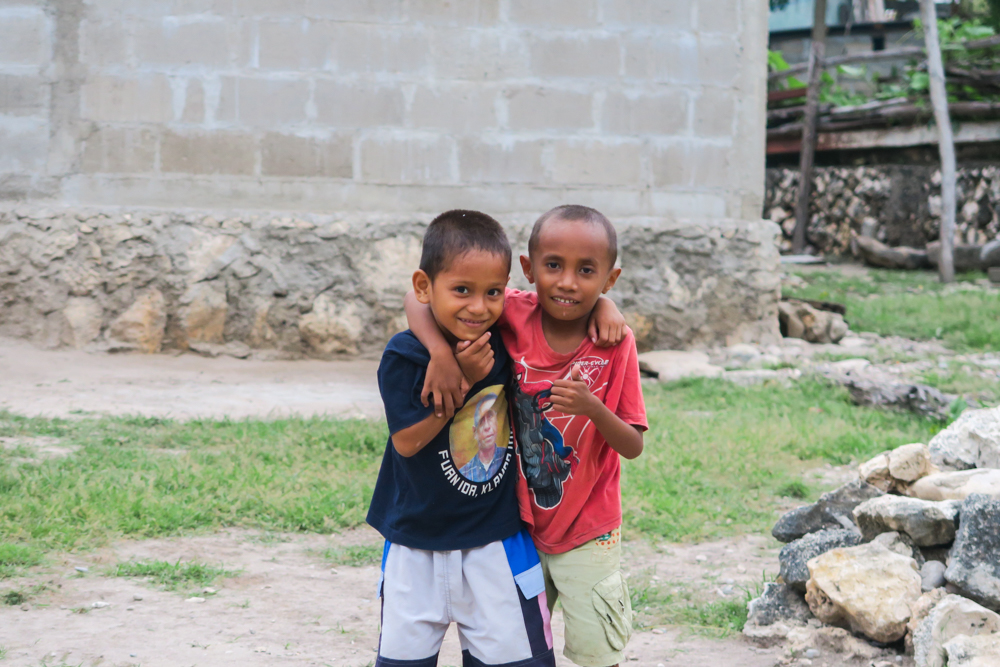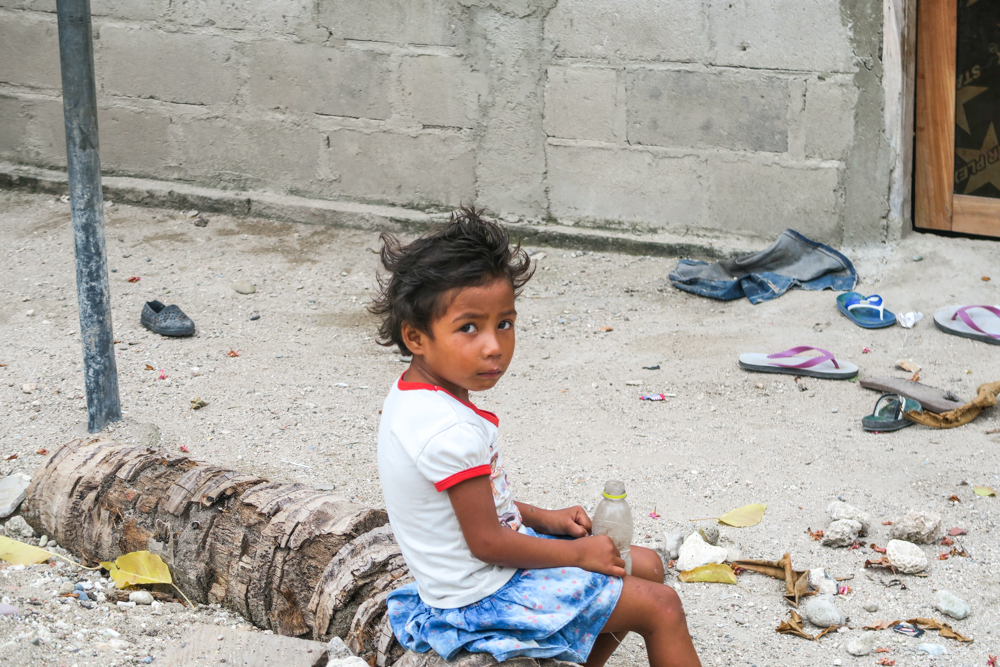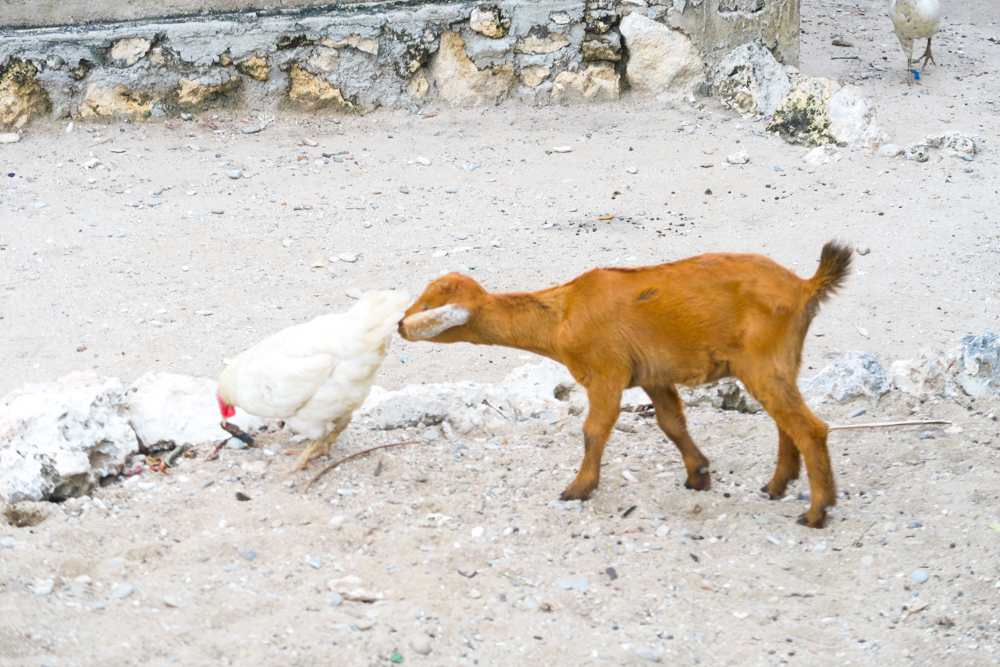 Day 3 – Jaco Island
On our last day of the mini trip we went to the far east end of Timor and took a small fishing boat over to Jaco Island. This little paradise island with nothing but nature. It's white sandy beach made the water super clear which made it easier to watch out for potential crocodiles. No crocs on our wee visit over there, but after som fruit picking and swimming we went back to the main island and had dinner before our long drive back to Díli.