Don't put your food in the compost – do this instead | How to stop food waste
One third of all produced food in the world go to landfill. It goes to waste. The amount of eatable food that is thrown away could feed 3 billion people. There are around 800 million people in the world today suffering from hunger and malnutrition. This means that we could end ALL hunger and starvation in the world with only a quarter – 1/4th of the food that now is simply thrown away for no good reason. Food waste isn't just an issue of starvation but with the 3.3 billions tons of carbon dioxide the food waste produce today, it is a major part of what accelerates the climate change.
HOW TO MINIMISE FOOD WASTE
In this post I want to give you some tools to use the food you have to the maximum capacity. This will save you money, be better for the environment and you might find a new favourite recipe or find fun and free DIY's for you or your kids.
Give your clothes new life
That's right, you can use food scraps to make your old clothes a completely new look. And no, I'm not insane. This is actually a thing. And it has been used for ages and ages, but was forgotten in most cases when the cheap, more effective and vibrant chemical colouring were introduced to the clothing and fabric industry. Oh, yeah. So that's how you can give them new life with food – by colouring them.
You can use such a big variety of natural veggies, herbs and fruits for different colours, and also combine them for even more unique shades.
Some of the most common one's I found that can be used for dyeing your fabrics are: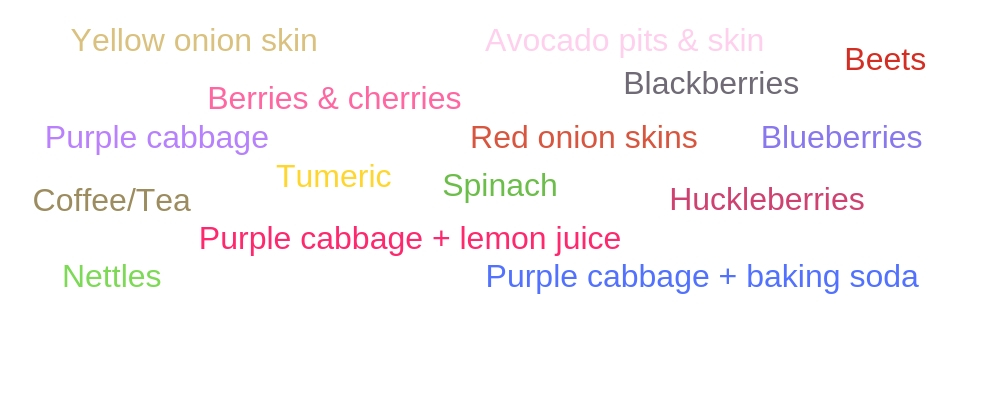 Here's two more pedagogic videos on dyeing fabrics with natural ingredients:
For more instructions and information about dyeing fabrics with things from your kitchen, here are two great resources:
How To Dye Fabrics Using Natural Materials by Debra Maslowski
How to Make Natural Dyes to Dye Fabric & Clothes at Home by 1 Million Women Movement
Don't peel your veggies
Not only is it common for the most nutritious part of the vegetables in or right under the skins, but by peeling the skin off you're throwing away completely eatable food. Instead, just wash it thoroughly or if needed scrub it with a cloth towel or a vegetable scrubber.
This will be better for your health, you wallet(you get/use more for what you pay for) and better for the environment. It's a win-win-win!
Research what parts of the vegetables you have that are edible
Did you know that the haulm on carrots are not only safe to eat but also extremely healthy and flavourful? Neither did I. Until I went to a super fancy restaurant and my main course was garnished with a fried carrot haulm. I asked the waiter if it was eatable and he said yes, and my oh my I did not expect it to be so good! I couldn't believe I didn't know about this and that I've been throwing away that part of the carrots my whole life. Because that's what my parents and everyone else I'd ever seen use carrots in the kitchen do.
There's a new tv-show in Sweden where one of the best chefs in Sweden with a tv host try to combat the food waste problem. In the first episode that aired just a few days ago, the chef mentioned this and even made a pesto on it. I HAVE to try that recipe. I'm also going to try to fry it with salt to try to get something similar to what I had at that fancy restaurant.
And there are more vegetables and fruits out there where most people throw completely edible parts straight into the compost instead of using? Search online to find out the situation for the veggies that YOU normally buy.
Some examples are of course the carrot haulm, beet haulm(although don't eat this in big quantities) and broccoli stems. These are all great products to make pesto with as an example.
Carrot top pesto
carrot haulm
garlic
olive oil
nuts or sunflower seeds
sea salt
basil or spinach
Mix it all together and voíla!
Aquafaba
Who here loves hummus!? Oh, all of you I see. Chickpeas are my favourite beans. I can eat them straight from a can but I also love drying them in the oven with spices to make a great snack that last longer and is easy to bring with me on the go. It can also make falafel – and everyone loves that too. And whether you get your chickpeas in cans or boil them yourself, have you ever thought that the water it's in could possibly be more fabulous than the chickpeas themselves!?
Aquafaba is the name for the cooking liquid of beans and other legumes like chickpeas
A lot of you probably think I'm joking with this one, but some of you have heard about this before. Have you ever tried it though? I have. Many times. I've made chocolate mousse, I've used it in baking as a substitute for eggs and I've made meringue – YES VEGAN MERINGUE!
Whip that chickpea water up and you'll see it transforming and acting exactly like egg whites
If you eat a lot of chickpeas, there's hundreds of recipes online where you can use the aquafaba. Here's
Trust your nose and taste buds, not the date on the packages
About to throw some old food away? HOLD YOUR HORSES
How do you know it's too old to eat? Have you smelled it? Have you tasted it? Is there mold on it? Is all of it bad, or can you cut part of it away? The dates on packaged food is often extremely misleading and almost the only products where they're there for safety reasons is when it's on raw meat/dead animals as bacteria grows and becomes toxic a while after death/slaughter. So as long as you rinse your veggies and fruits, trust your nose, eyes and taste – you'll be fine!
Make your own vegetable stock
This is a great way to get the most out of the ends and skins of your vegetables. Instead of putting them in the compost straight away – put it in a container and store in the freezer until you get enough to make your own vegetable broth. I don't know the difference between stock and broth and I'm too lazy to look it up right now but I think it's kind of the same thing.
Can or pickle
Personally I am not a big fan of pickled things. Even though I am Swedish and we have pickled things with every single holiday meals. Christmas, Easter, Midsummer – yupp. You can find pickled herring or aubergine on all those buffet tables. Of course along with potatoes. It wouldn't be a real holiday buffet if there aren't any potatoes!!
Since pickled herring is the traditional holiday food and I don't eat animals, I've tried doing pickled aubergine/eggplant (I found recipes online, I didn't think of this idea myself – I'm not that good in the kitchen) and HOLY MOLY! It turned out not just looking like pickled herring with the same look and texture, but it tasted even BETTER than the pickled herring.
SO! For anyone wanting to try some traditional Swedish pickled herring, whether you're vegan or you just don't like the taste of fish – here's the recipe on how to make it:
Vegan pickled herring/ Pickled eggplant
1/2 aubergine/eggplant (ca 300g)

3 dl water


2 dl sugar

1 dl vinegar essence

4 bay leaves

10 allspice berries


0,5 dl carrot

0,5 dl leek

Mix vinegar essence, sugar, water and spices and bring up to a boil
Cut vegetables and add them to the mix
Bring up to a boil and take off heat, letting it cool and store it in the fridge over the night(or longer)
There's a bunch of other recipes that you can just find searching online
Pro-tip! Use Ecosia as your search engine – it works the same as any other search engine but with the money they get from the advertisement – they plant trees. So by doing nothing more than using internet like normal, your searches turn into trees, thus helping fight climate change
this isn't sponsored btw, but it's such an easy way to help the planet without lifting a finger.. or well, you actually do lift your fingers when typing, but you get my point. You can help fight global warming by not having to get your ass of your chair.
Now back to the post.
Make nice cream
Forgot you bananas or had them bruised in a bag so they got brown and mushy?
You're in luck!
This is a gift and throwing overly ripe bananas in the compost should be a crime. Instead – chop it up into smaller pieces and put in the freezer. Whenever you want to make a smooth smoothie or creamy and fluffy ice cream, just take out some of those bananas and throw them in a mixer. Eat just as they are – sweet and banana flavoured. Or use it as a base to make ice cream with different flavours by adding what you like. Cocoa, berries or whatever you can think of. The only thing I'm mad about is that I didn't discover this earlier. It's a super healthy, nutritious and cheap way to satisfy your ice cream cravings.
Another tips I have seen been made but haven't tried yet is to as coconut cream to the banana base when making the ice cream.
And of course, after you've made sure you have used everything you can from the food, throw it in the compost. Cause putting food waste in normal trash is very, very bad. It releases a greenhouse gas that is stronger than carbon dyoxide so do compost!!!
DO YOU HAVE ANY TIPS ON HOW TO MINIMISE FOOD WASTE?