I fell in love with Hamburg
I went to Hamburg on a press trip in collaboration with Nordic TB and Hamburg tourism. I knew nothing about Hamburg when I went and I had never even thought about going there.
Me and a few other bloggers went there to experience the Christmas markets and the Christmas spirit of the city.
But the trip did not really go as I had expected…
Accommodation
We got to stay at this wonderful old hotel that had kept a lot of the original details from when it opened as a hotel in the 1910s. Such as a revolving door. I always used that one and not the normal door next to it, of course. There was also original giant marble pillars, marble stairs, a titanic looking dining room and the bar that made me wish I'd brought a Great Gatsby inspired outfit and pretended I was an actor staying at the hotel in the 20's, sipping on a drink and listening to the music that went perfectly with the interior of the bar.
I had my own espresso machine in my room, which I of course used to the max.
Usually I think fancy hotels are quite boring and soulless, but this had a lot of spirit. And after getting a guide through the hotel it became everything but soulless. I don't know if this was a more historic and interesting hotel, or that I've just never learned more about the other hotels I've stayed at. There were so many thoughts behind everything, like not having plastic bottles and instead having spring water in the taps and filling up bottles with that water.
And I have to give a special shout out to Ahmed, an employee who worked in the dining area at breakfast time. That smile, warmth and energy cannot be faked. It's most likely impossible not to crack up a smile when he greets you into the dining room even though it's early in the morning and you haven't had any coffee yet. I mean – someone give this man a medal! Or a raise.
The hotel we stayed at was Reichshof Hamburg, a curio collection by Hilton, and it is located just by the central station in Hamburg.
Christmas markets
There are 20 different Christmas markets in Hamburg and they vary in size and in character.
Sant Pauli
I'm pretty sure you've never been to a Christmas market like this one before. At least I know I haven't.
The market is located in the red light district, so the market reflects that with a tough of… sexuality, adult fun and party. There's a stripper tent, stalls that sell sex toys, candies shaped like genitalia and clothes with… very little fabric.
Sant Pauli market also has it's highest point decorated with a huge disco ball. That's right. A disco ball reflecting light all over the market. There was also a fire show in the ceiling of one of the bars. A Christmas market for adults. It's truly an unexpected experience.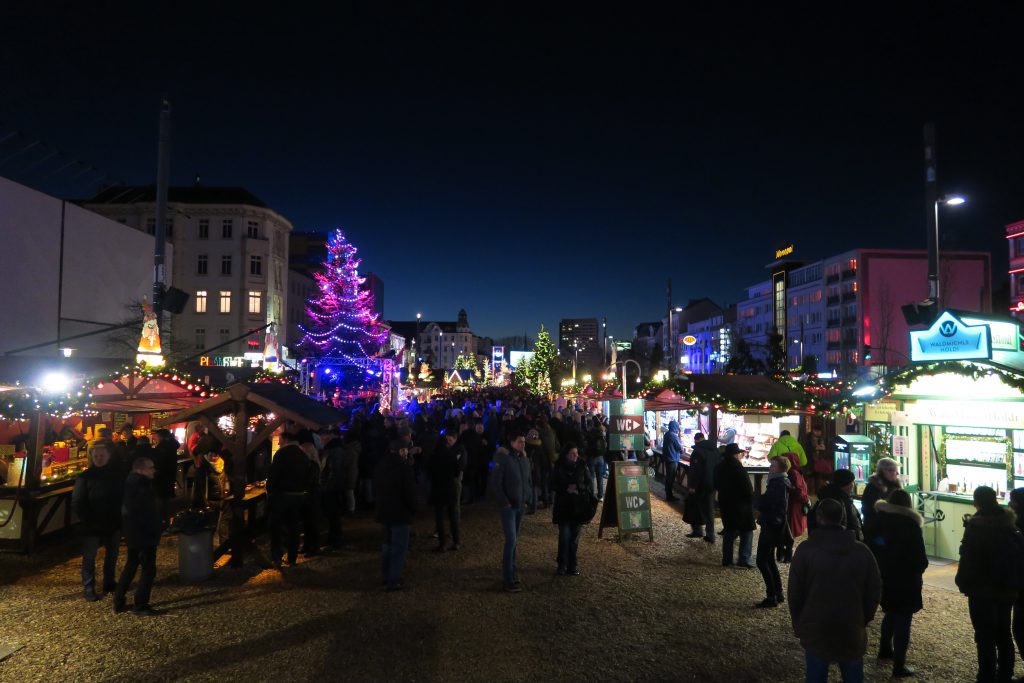 Altona/Ottensen
The only reason I knew about this place was because I had researched for a place that sold vegan Christmas food. And I sure hit the jackpot. I had a vegan waffle and then a vegan curry wurst with rosemary potatoes. That currywurst was the tastiest vegan sausage I have ever tried.
I went back the next day to have myself a round 2, but I got there at 11 and it was a Sunday so it didn't open until 12. So instead I went to a vegan café and bought myself 3 pieces of cake… It's hard to pick one, ok!?
City center
If you want the more classical christmasy markets, you are in luck. You can find these magical german Christmas markets lying next to each other right in the center by Rathausmarkt, Mönckebergstraße and Gänselmarkt.
Gorge in glüwein, currywurst, candied almonds and kartoffelpfannkuchen(potato pancakes).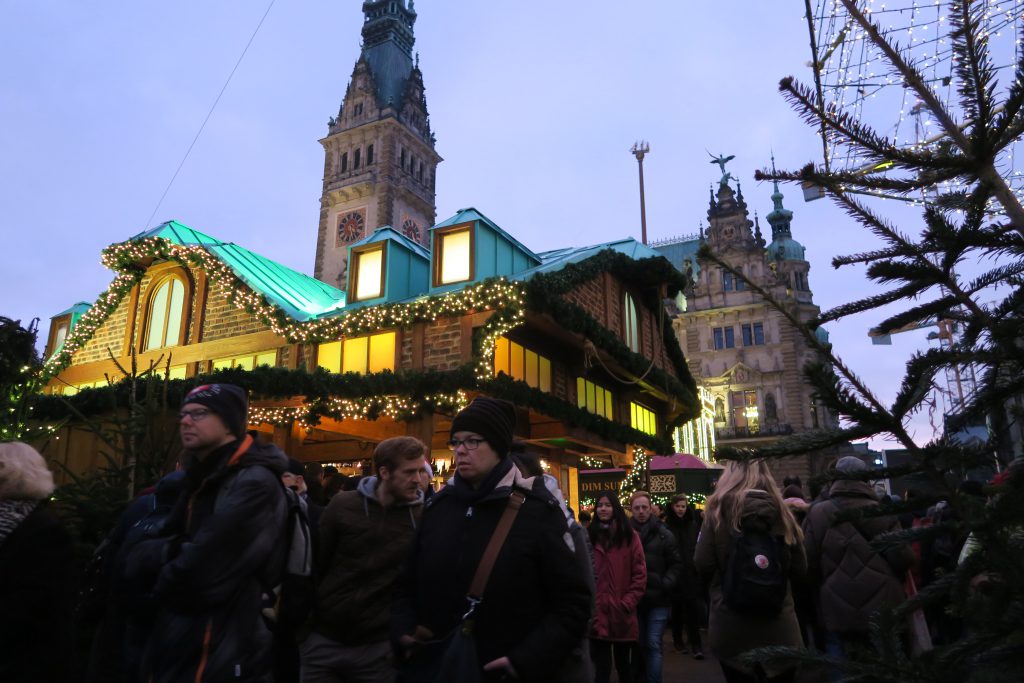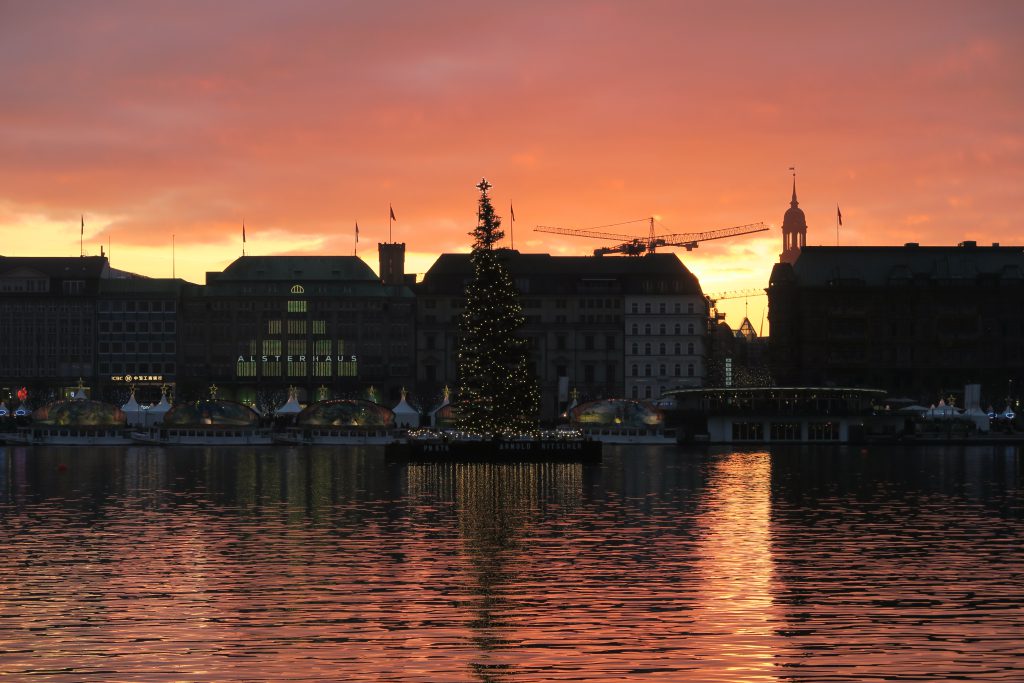 Attractions in Hamburg
The Harbour
We started off the weekend with a boat ride to see the harbour up close. It is unbelievably big, and coming from a harbour town myself, I loved the familiar look of the cranes in the distans. We were also lucky to have perfect weather both days. Not a single cloud all of Friday and Saturday.
Elbphilharmonie
The new concert hall that is about to have it's premiere concerts this weekend is an absolute masterpiece. I usually don't like the mirror/glass covered modern typ buildings, but this was a beauty. The glass was bent in many places which perfectly picked up the different colours of the sky as we drove by on the boat. It is build on top of an old ware house and the Plaza, where you can walk around it all is opened for the public and it rewards you with a 360 view. And one of my favourite features of course is that you can do a beer tasting. If I remember correctly, it's 7€ for trying 6 different beers. I also love the fact that the restaurant and café are made to suit all people and not just the fancy pantsy ones.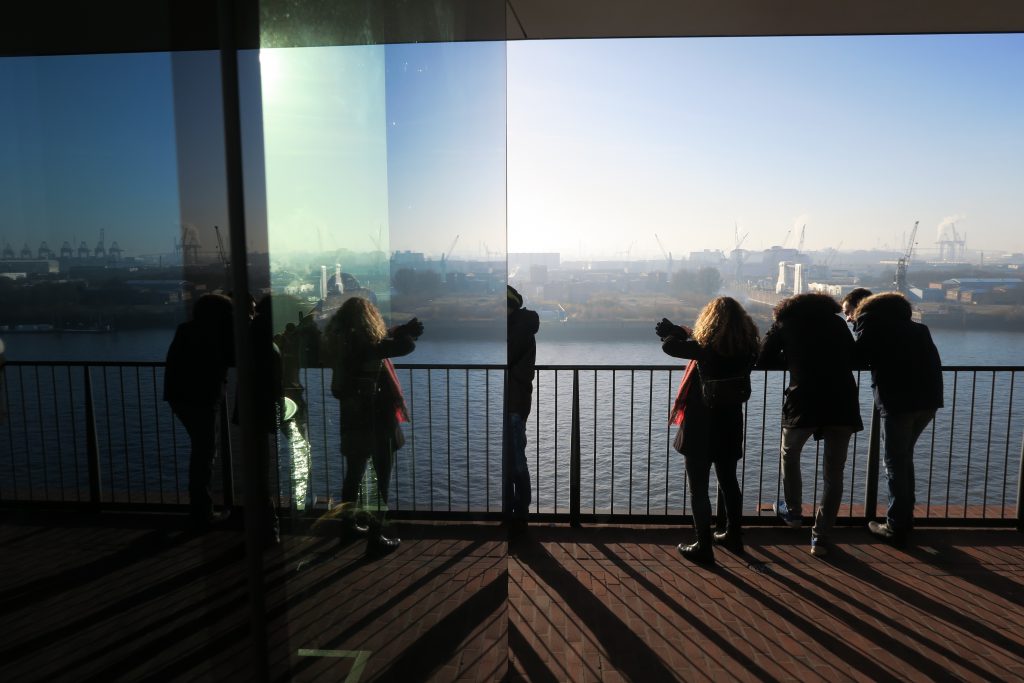 Speicherstadt and kontorhaus district with Chilehaus
This area is now protected under the UNESCO World Heritage list. It's easy to see why. I love that it is still kept so original and unexposed. Many other cities would have taken advantage of the beautiful and central area and commercialise it. Walking around here is probably not too different from how it was walking around there way back in the days. One thing to keep in mind! Go back here when it's dark. The Chilehaus lights up and becomes absolutely gorgeous!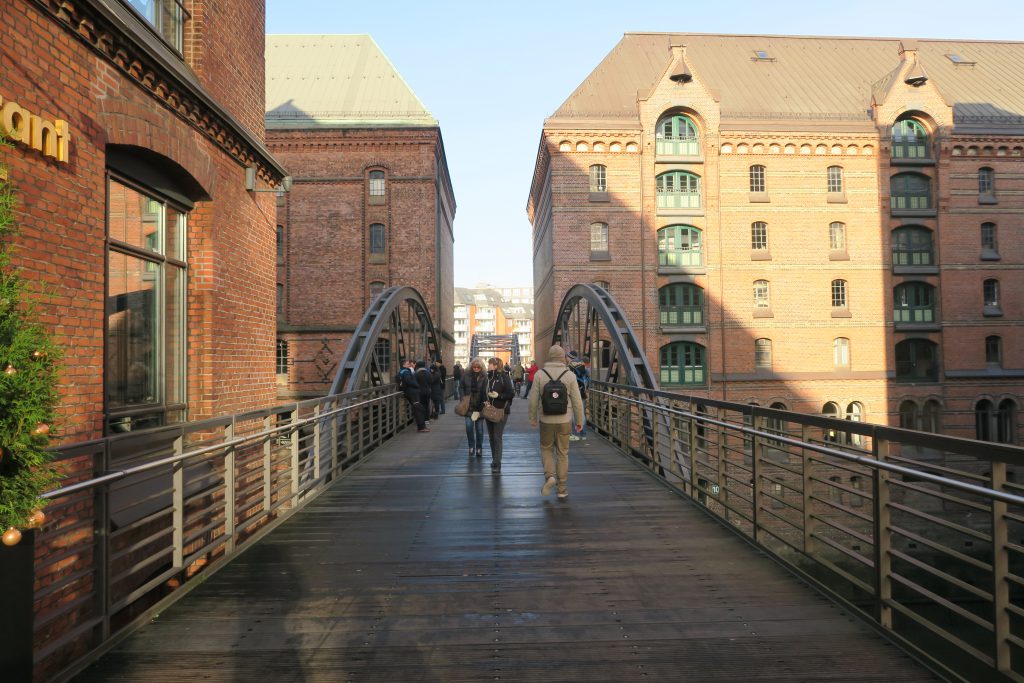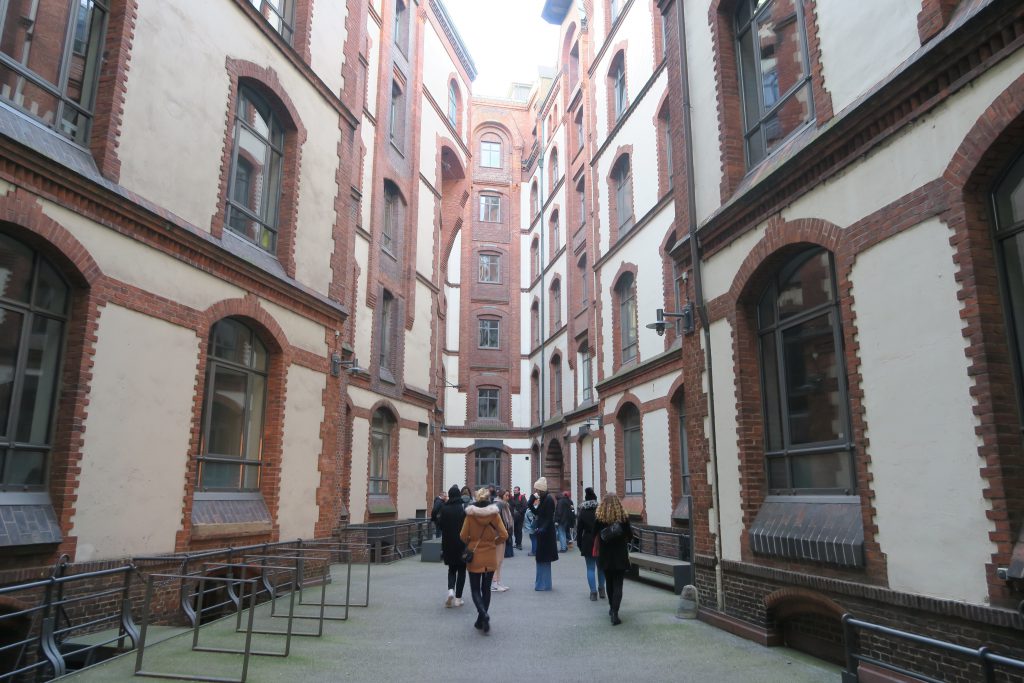 How I fell in love
After coming to Hamburg I was confused to why I haven't heard more of the city. I rarely like cities enough to actually imagine myself living there. But with Hamburg I felt it straight away. The atmosphere, the attitude by the city to not commercialise and focus on profit rather than building a society that suits everyone no matter their economical status. To focus on building schools and apartments for students and families in the brand new upcoming city center and not on the clientele that pays the most.
Though I did not have time to experience it myself, Hamburg is one of the best music stages in Europe. I admire how the old was preserved and respected. And I loved how it was so easy to get around with the metro. I like the tempo of the city.
And I adore the different districts and how they all had their own strong personalities.
This was supposed to be a job to experience and write about the Christmas markets but to me it became something a lot more. I found a new potential hometown.
As of beginning of next year I will no longer have a home, and will travel around and stay  in places I like for as long as I want to, and I can really see myself putting up a base for myself in Hamburg sometime in the future.
#HolyHamburg
#ChristmasinHamburg