Everything you need to know before traveling to East Timor
Timor-Leste or East Timor
East Timor is one of the youngest countries in the world, gaining their independence in 2002. It's name is a mix of two languages – Timor being Malay and is the word for East, and Leste i Portuguese for East as well. And the reason there's a Portuguese mix in there is because East Timor was a Portuguese colony for about 200 years.
Location
Timor-Leste is located in South East Asia among the Indonesian islands, close to the Papua island and Australia. It is on an island called Timor and is shared in half, the other half being part of Indonesia.
Brief history
People settled on this island 42.000 years ago. It became a Portuguese colony in the mid 1700's until 1975 except for a period during the second world war when the Allies and then the Japanese occupied the capital in Timor-Leste. The independence in 1975 only lasted for 9 days cause then the Indonesians invaded and declared them as another state of theirs. The occupation was an extremely violent one, and the museum about the Indonesian occupation in Dili was one of the most emotionally heavy museums I've personally ever visited. It was an occupation with massacres(like the world known Santa Cruz massacre in 1991 where Indonesian soldiers massacred more than 250 Timorese youths during a memorial at Santa Cruz cemetery), torture, sexual slavery, and deliberate starvation. There were somewhere between 100.000 up to more than 200.000 deaths during the ca 24 year long occupation until Timor-Leste finally gained their independence again in 2002.
How to get to East Timor
There are flights to East Timor from 3 different locations. Bali in Indonesia, Singapore and Darwin, Australia. By air is the easiest way to get to the island since it is one of the thousands of islands in south east Asia, however there are usually boats you might be able to go with from example Surabaya and Bali in Indonesia or Darwin in Australia.
Visa on arrival
If you are a EU citizen(and some other nationalities as well), you get a free visa on arrival for up to 90 days and the rest needs to pay 30$ for a 30 day visa on arrival. You can only get the Visa on arrival when you arrive to the airport or the Dili harbour
Arriving by land
If you are on the Indonesian side of the island Timor you will need to apply for a visa beforehand as they do not grant visa on arrivals at the land border. I have heard of a few people who did get one the same day but do not count on it as this was probably based on the amount of work they had and the nationalities of the passport holders.
Extend Visa
You can extend your visa when you are there and it cost 35$ for 30 more days. If you want to extend even more you need a special permission that you would get if you for example work or study there.
Language
Timor-Leste used to be a Portuguese colony for a long time, so one of the two official languages is Portuguese. The other one is called Tatum, but there are more than 15 national languages in this small country, so a lot of the people don't understand each other outside of the capital and other bigger towns.
Currency
Now this is a surprise – their currency is actually American dollars, even though they don't really have much of a relation to America at all. At least it makes it easier to count and keep track of how much you spend
Expensive
The people in East Timor generally don't make a lot of money and almost half of the population lives in poverty and depend on farming as tourism is not yet a big industry there. However, don't expect to get away on the cheap here just because the people don't make a lot of money. They will charge you a lot more for being a tourist, and since there's not a lot of tourism, there's very little to none competition with the current companies so they can charge basically as much as anyone would be able to afford. Sometimes they will try to charge you a ridiculous amount of money though so be sure to negotiate the prices beforehand. I think the most obvious skam was when we paid 7$ each for a meal of rice and fried cabbage, and the others also got a fish head(!) and some water. SEVEN DOLLARS FOR RICE, CABBAGE AND A FISH HEAD. Unfortunately this was negotiated without our knowledge so we couldn't change the price after eating it. But learn from our mistake and ask for prices before.
Road conditions
This is a very young country who under many years were under oppression under Indonesia so there weren't focus on building up an infra structure there, and therefor the roads are bad all over the country, with exception from the capital – although they are constantly building and repairing roads but it does take time so be prepared that some roads you were planning on going on simply aren't there anymore. We experiences that twice on our trip, where the roads had collapsed so there was no way of passing it.
Tourism
East Timor is one of the least visited countries in the world, with between 60.000-70.000 visitors – most of them coming for work and only staying in the capital Dili. It has been estimated that the amount of tourists coming to East Timor is only around 5000 a year. There are very few tour companies at the moment but the amount is growing, however with the lack of competition, most of them are very expensive. You will find hostels and hotels in the capital but outside of that modern and well working city, your only option will be staying with families or small family owned B&B's – which I highly recommend that you do.
Diving is amazing
With the lack of tourism Timor-Leste has some of the best kept reefs that has not been destroyed yet by divers and tourists. I really hope it will stay this way – at least until people and companies learn to do it responsibly and respectfully.
Dolphin spotting
The migration of Dolphins that passes the island is massive and just taking the ferry or boat between Dili and the little island Atauro will give you a high chance of dolphin spotting. No dolphin tour needed here.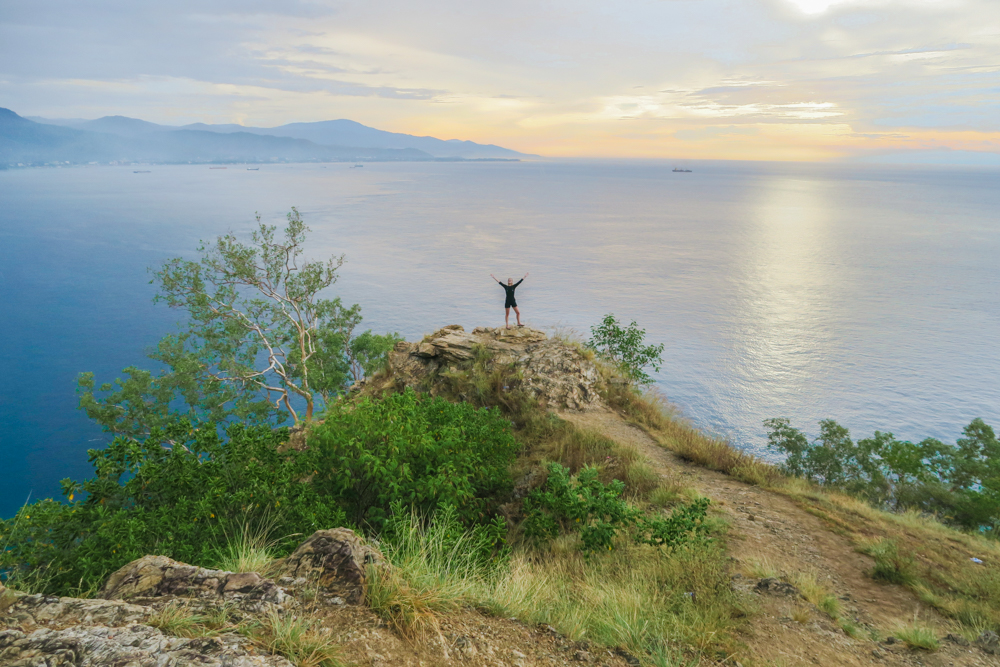 When to go
The dry season with lots of sunlight stretches from May to November. December to April is the wet season and the risk of the bad roads collapsing is a lot higher. I went in April and there were 2 spots where we had to turn back because the road was simply gone, leaving a big gap in the middle of the road, allowing small cars or scooters to pass one by one at best.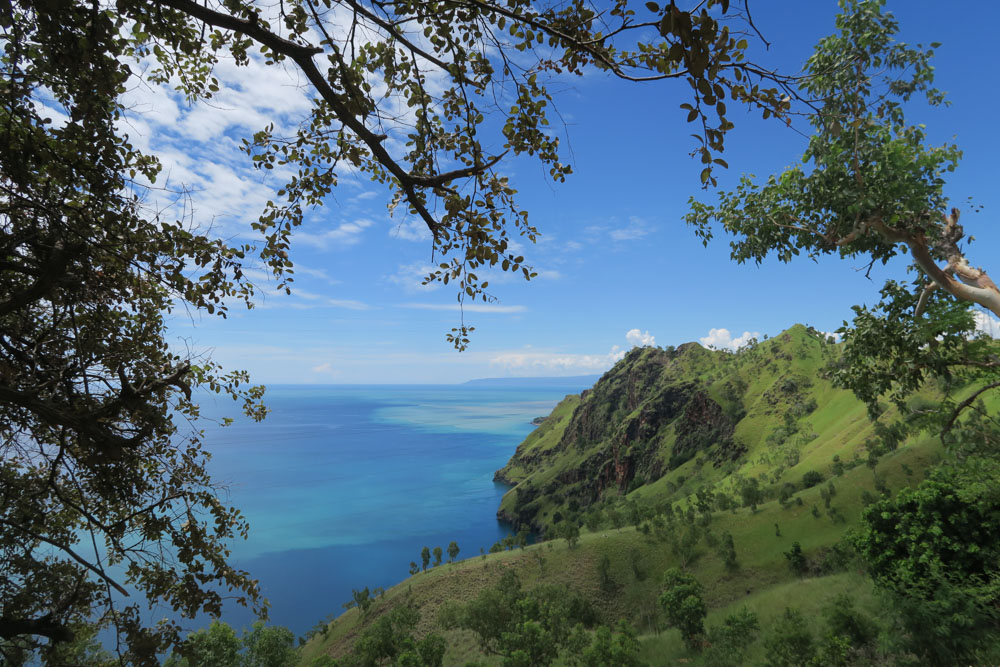 Vegan options
I expected this tropical country to be full with exotic fruits and vegetables but the cuisine here is not something to cheer for. This is definitely one of the countries that I have struggled the most with finding nutritious vegan food eating out.
Their view on tourists
Going into the smaller villages in the mountains, far from the bigger towns it was obvious that many of them have rarely or in some cases never seen white tourists before. They would all wave and smile the biggest and happiest smiles. Many would yell "Malay, Malay" after us, meaning "foreigners" and in a good way. Especially kids would sometimes run after the car we were passing by it and try to high five us or come up to us wanting us to take pictures of them.
I made a post with pictures I took of some locals (all with full consent – many of them even asked me to take their picture)
Safety
In general I would say that I felt very safe in East Timor. In the small villages with houses with no electricity or running water I never got a feeling of danger of being robbed or pick-pocketed. There was only one village were we stayed were some of the kids would ask for money, not because they were in much need of it but because they think tourists coming there are super rich and probably have given them money before.
There was also an area outside of Dili where we were told is is extremely dangerous to drive moped or motorcycle after dark as there were people there shooting bikers with bow and arrow(yes, you read that right), stealing the bike and selling for money. So just be cautious and ask locals for advice when your are there as things like these change so you need to be up to date when you are there. But in general I would say it is definitely safe.
Solo travel
I did meet several solo travellers in Timor-Leste and now that I think about it I think that all the backpackers I met there were traveling there alone. So it will definitely be easy to find people to maybe join you for a trip or to a bar. With the lack of tourists many of the locals are curious and interested in talking to you too so it is also easy to make friends with locals there.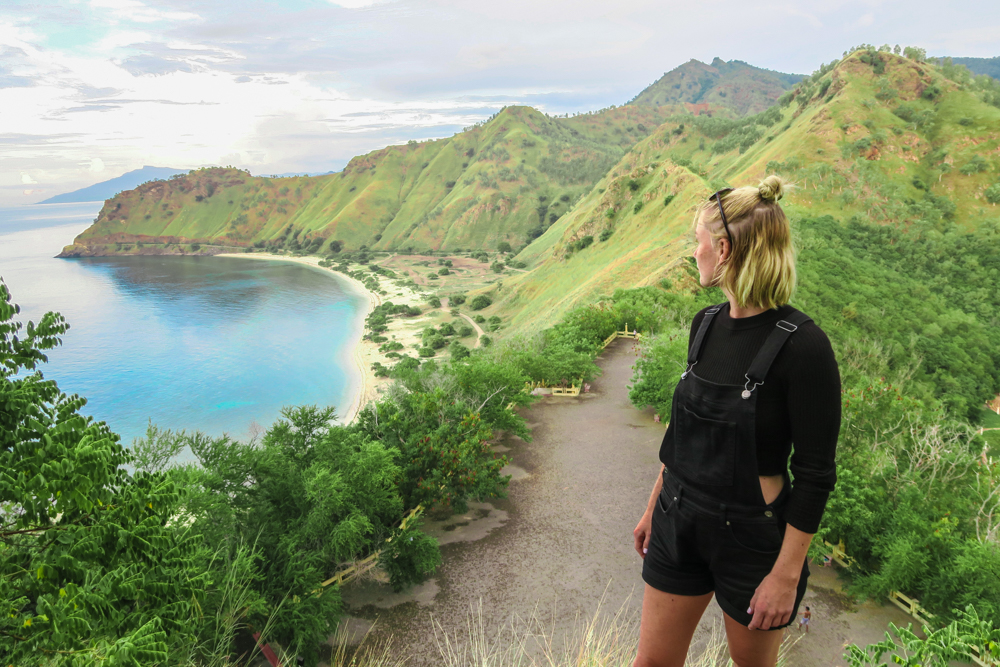 SIM card
There are 3 main tele-companies in East Timor that you can easily get and top up, but be prepared that if you go outside of the main cities you might be out of service and definitely out of data.
How much money you will need
It's always difficult to give a number when people ask me how much money they will need to go to X so here is a list of examples of what some things cost me so you can yourself calculate depending on what your budget and travel style is.
Accomodation
Budget: There are hostels for as little as under 10$ a night but they will be very simple
I stayed at a very simple hostel for 20$ /night as that was the cheapest option at that time but it was not at all worth the money and that I really don't recommend you to stay at that place(Dili Central Backpackers). Read more about why further down under "warnings"
I stayed at a guest house close to Matebian Mountain that was 15-20$/night and this was in a house with shared toilet without running water but it was a very nice experience and the family that hosted us were lovely and even let us help and learn how to make traditional food in the kitchen
I spent one night at a guest house in a small town called Com. I believe it was around 20$ for one night in a room with shared bathroom
Medium: Most options are in the medium budget being from 50-100$/night
Luxury: There are a few options with more luxurious places but don't expect anything super luxurious cause I don't thing they have any of those hotels as there is no market for it there. If you want more luxurious you might need to look at houses to rent instead.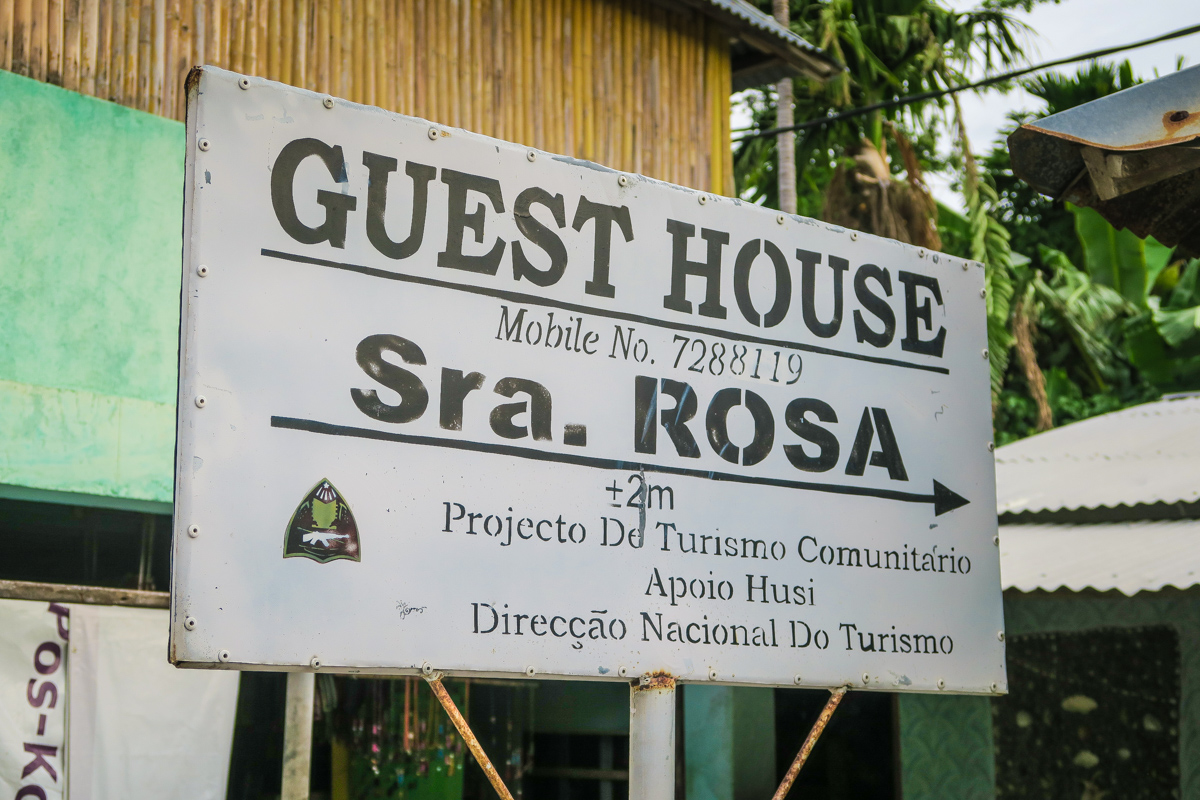 Food
Cheap option, Mie Goreng at a small restaurant in Dili for 2,50$
Dinner and breakfast at the guest house in Matebian was a total of 5$
We were totally taken advantage of for being tourists at the guest house in Com where they charged ut 7$ each for rice with fried cabbage and some sort of green leafs and the others also got one fish head each….. Unfortunately our guide was in charge of the communication and he only realised the mistake after we had finished the food.
A beer at a supermarket (0,5l/16 oz.) will cost around 2,50-3$ and the same beer at a neighbourhood pub will be around 4-6$
Transportation
There are public transport throughout the country in the bigger roads that is also very cheap.
As we had very little time and wanted to go to many off the beaten path places we hired a private driver with a 4×4 vehicle (that was needed or we would've gotten stuck and not made it to the places we went), which was very expensive. If I am not mistaken it was like 125$ per day excluding the prices for food and accommodation for the driver. A lot for 3 days considering the average monthly wage in Timor-Leste is around 225$…
To get to Jaco island the only way to cross the water is to go with one of the local fishermen in their small boat, charging 10$/person including picking up on a time you decide, although keep in mind you are not allowed to spend the night on the island.
Getting to Atauro Island from Dili takes one hour with water taxi and is 45$ per way and the public ferry that takes 2 hours is only 5$/way
Warnings
Do not stay at Dili Central Backpackers. The owner was trying to milk us out of money and when we wanted to book something ourselves instead of with her she literally got angry with us. I've travelled staying in hostels for more than 5 years and I've never experienced something as unprofessional and rude like that. The commission she wanted for things she booked was completely our of proportion and she tried to charge us double for a bungalow cause there were two of us when the price was per bungalow no matter if it was one or two people staying there. And we're talking a bungalow that was around 25$ a night…
Places to go
Jaco Island
Matebian Mountain
Atauro Island
Mount Ramelau
Cristo Rei in Dili
Tutuala Beach