Backpacking with a hand luggage only
Minimalistic packing
Tomorrow, I'm traveling as far away from my home as possible.
I'm traveling 18.000 km and 11 timezones away, to New Zealand. And I am doing this with nothing more than my 38 l backpack that I use as hand luggage. I have noticed that people often are surprised of how little I bring when I travel.  But I like to keep it simple and minimalistic. Nowadays, most people(me included) have too much stuff. And even though I am only gone for 5 weeks, I would bring the same bag with the same things if I where to travel for an indefinite time.
I even feel like I am bringing more than I need right now.
Why?
First of all, it is so convenient. I don't have to worry about my luggage getting lost on the way, and when the plane lands, I can just take my backpack and walk away and not have to wait for my bag to come.
Another reason is that I want to live a more simple life, and not buy and own more stuff than what I actually need. I don't like how we are taught that we always need more stuff, or change in perfectly working stuff for a newer model just to have the latest of everything.
But the biggest reason is way more simple than that. I don't want to carry around a large and heavy backpack everywhere. And I don't need more than what I will bring.
What is in my bag?
Backpack
Lundhags 38 liter
Clothes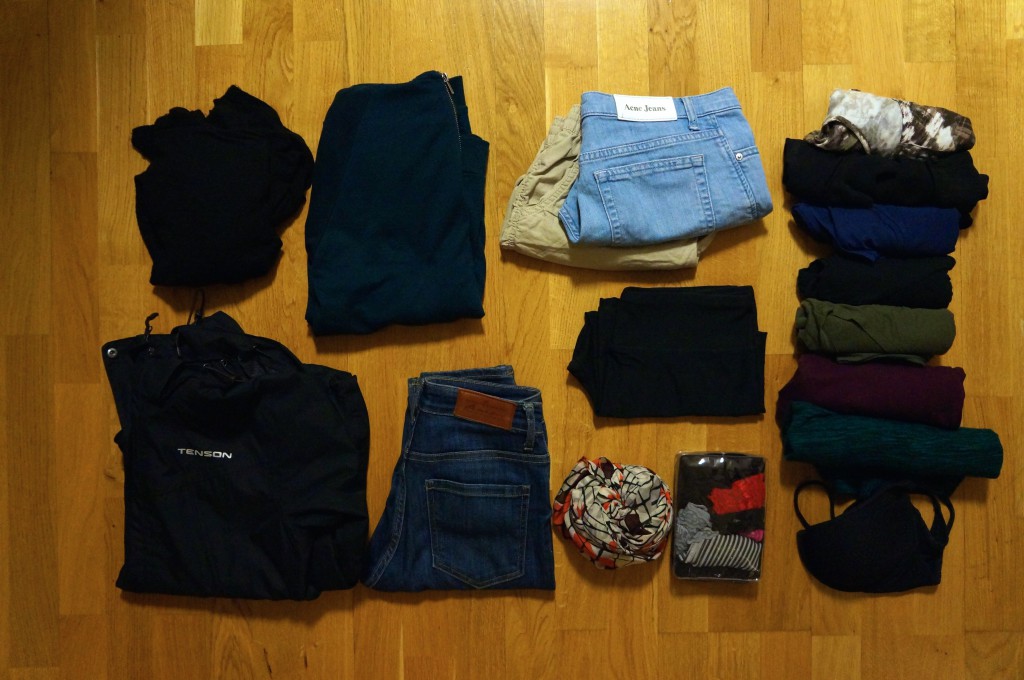 Rain/wind resistant jacket
Hoodie
Cardigan
Jeans
2 pair of shorts
Jogging tights
1 dress
1 blouse
3 short t-shirts
2 long sleeved t-shirts
scarf
bikini
underwear
Shoes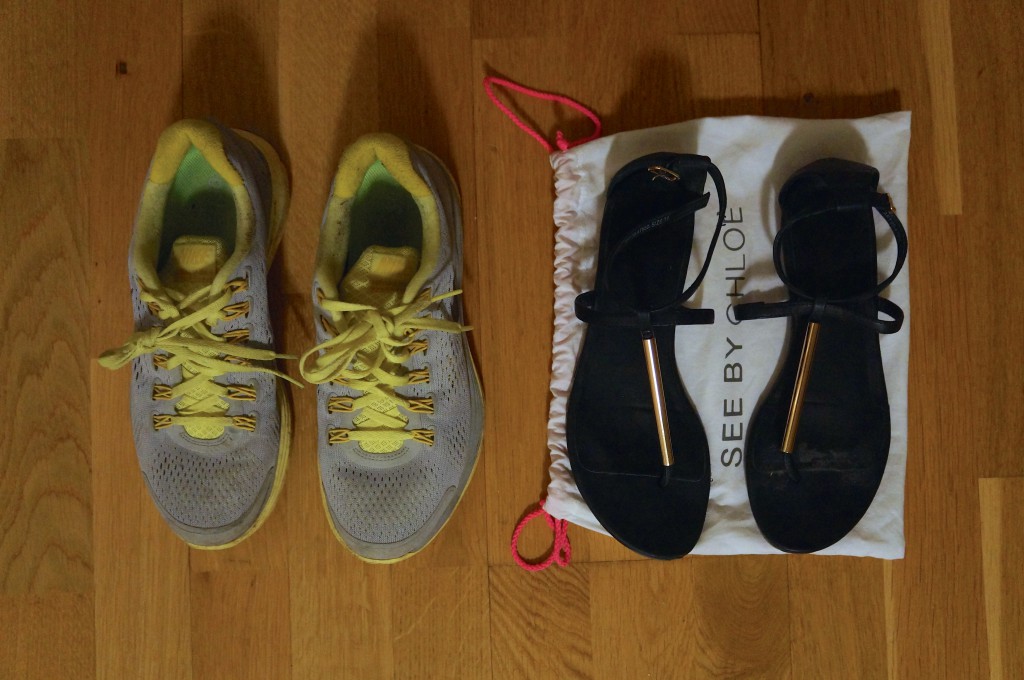 Toiletries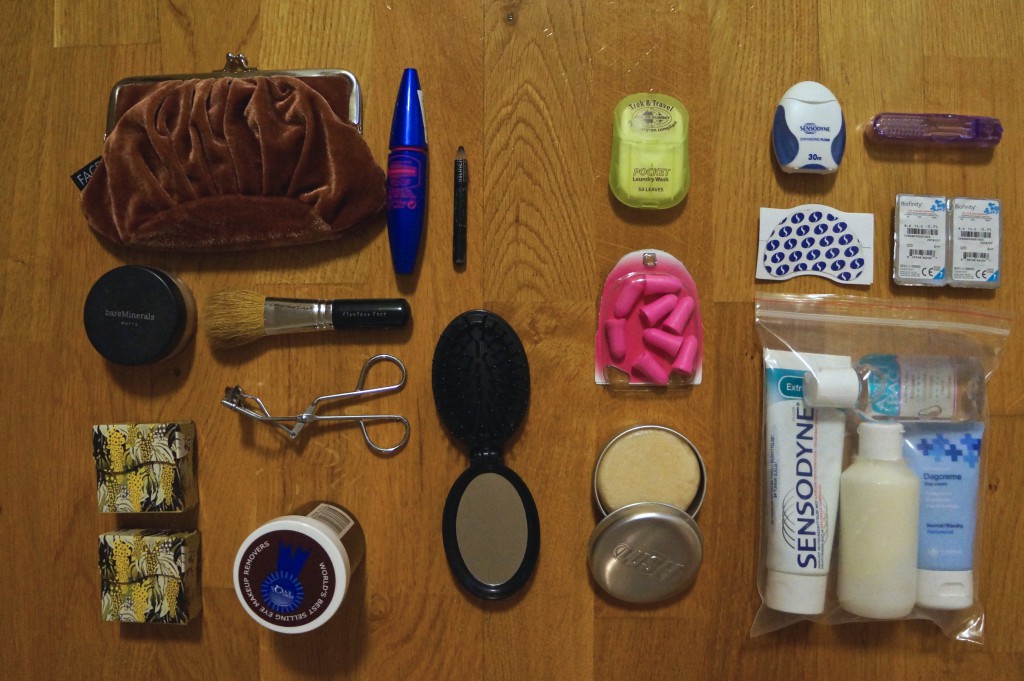 I.d. foundation
brush
mascara
eyeliner
eyelash curler
tampons
makeup remover pads
foldable hairbrush with mirror
pocket laundry wash(50 pieces)
earplugs
floss
toothbrush
chafe plaster
contact lenses
anti-bacterial gel
toothpaste
conditioner
face cream
birth-control pills(not on picture)
Electronics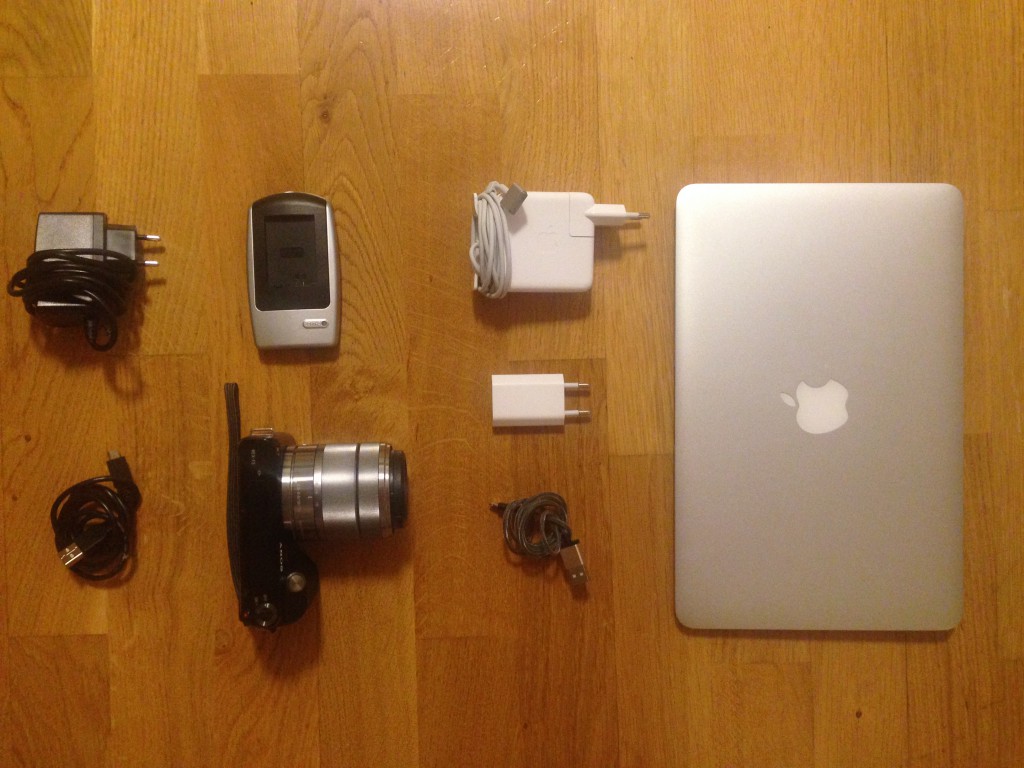 charger for camera battery
charger for iphone 4
charger for laptop
camera cabel
compact system camera, NEX F3, 18-55 mm lens
macbook Air 11″
iphone 5(taking the photo)
headphones(not in picture)
case for laptop(not in picture)
Documents

important documents, tickets etc.
passport
wallet
notebook
pens
Gear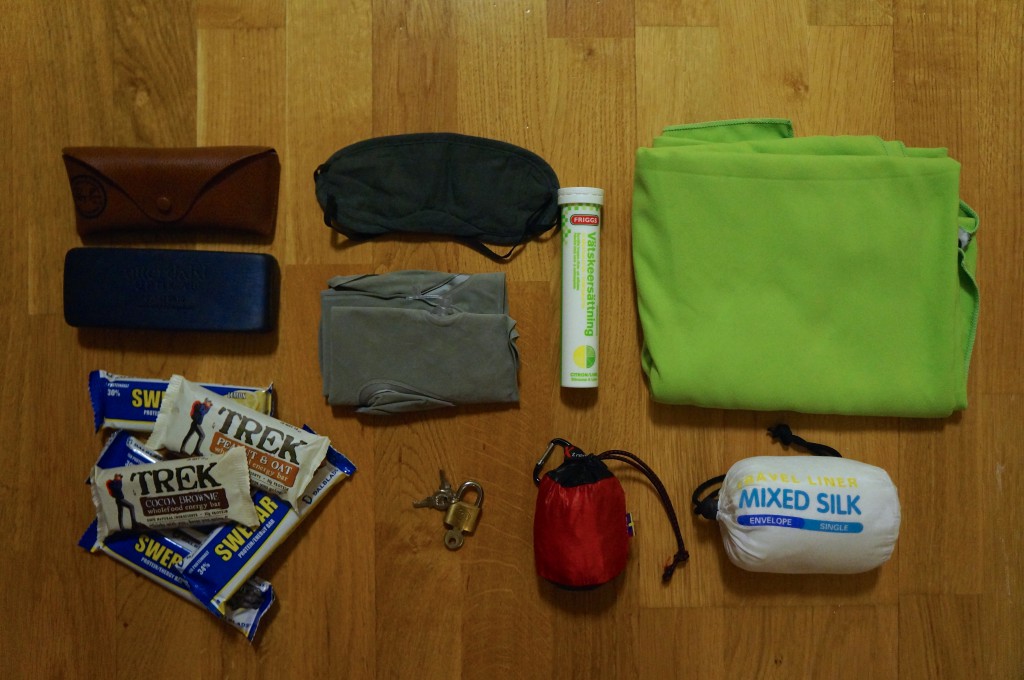 sunglasses
reading glasses
energy bars
blindfold
neck pillow
padlock
fluid replacement(to avoid hangovers)
travel towel
foldable lightweight backpack(holds 20 liters and folds into a small red ball)
silk travel sheets
bags of different colors to organize