5 places that took my breath away
What I look for and enjoy the most about traveling is nature. I love nature, and I love being in nature. Mountains, greenery and some form of water is to me often a slice of paradise.
Sometimes the lanscapes I see are so impressive and beautiful that they literally take my breath away. The air from my lungs leave me and I just stand there in awe for a while before I can start breathing again when the chock has settled.
Here is a list of 5 places and sceneries that did just that – take my breath away.
1. Lausanne, Switzerland
I arrived by train from Genève in the evening. As my couchsurfing hosts wouldn't be home for another hour, I went down to the harbor and got there just as the sun was starting to set. When I got down to the harbor, I walked left and when my eyes hit the mountains softened with pink light, my air left me and I froze. This is the first moment I can remember where looking upon a landscape affected me that strongly.
2. Lake Bohinj, Slovenia
A lot of people have heard about the magical lake Bled in Slovenia, the one with a church on a tiny island in the middle of the lake. I'd heard there was another lake even more beautiful close by. Impossible I thought, after arriving at lake Bled in early morning with mystical mist floating above the surface.
And then I got there.
I think this might actually be THE most beautiful place I've even been to. This is my exact definition of paradise. Mountains, greenery and a lake. It's hard to explain how happy and filled with this indescribable feeling when I visit places like the ones on this list. No words can do them justice.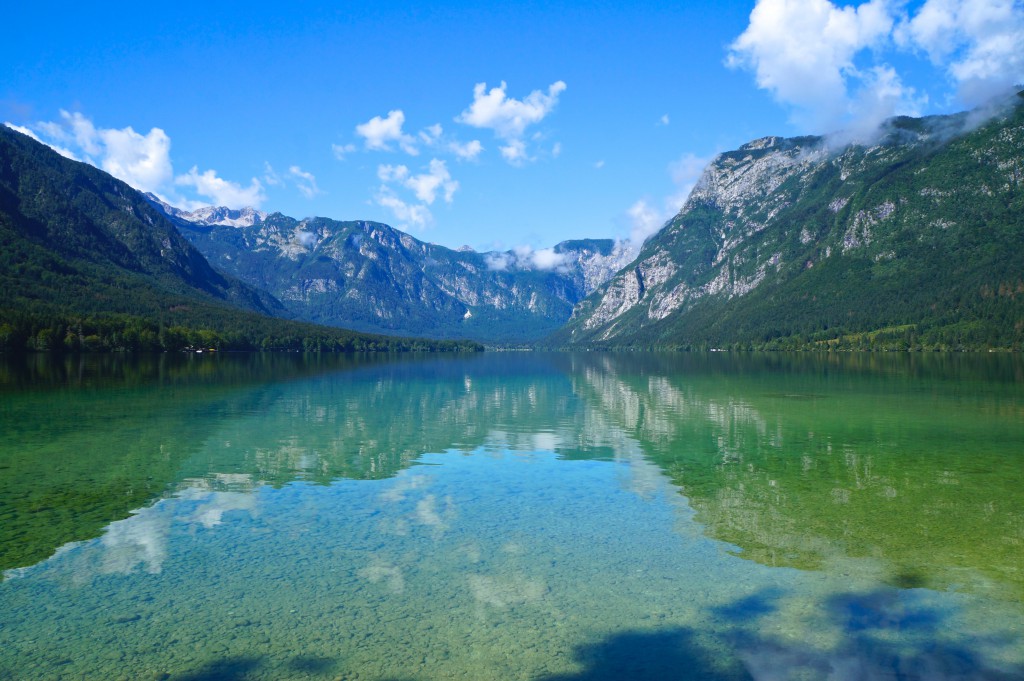 3. Sv. Mihovil, Ugljan, Croatia
I visited Zadar in early May in 2014, when the parks known for their beauty, Plitvice and Krka were both flooded. There went my plans for the trip I thought. Then a girl who was one of the owners at my hostel told me I could take a boat out to an island just outside Zadar, called the Olive Island or Ugjlan, where I could rent a bike and ride up to an old abandoned fortress – Sv. Mihovil.
Not knowing what to expect and an unexpected amount of free time on my hands, I did just that.
First of all – the biking was tough! It took me an hour of constant uphill biking before I got there, and it was unbelievably hot that day as well.
But it was worth every single drop of sweat.
The fortress was covered with flowers and had a 360 degree view of the archipelago – and I was the only one up there! I still have a hard time believing how beautiful it was.
4. Doubtful Sound, New Zealand
The lesser known and less crowded cousin to Milford sound in southern New Zealand took me by surprise. I was on a tour so I hadn't researched the places I was going to too well. At first sight it, as the title reveals, took my breath away.
And to make that place even more special, when we went out kayaking a flock of dolphins swam and jumped just a few meters away from us.
5. Sunrise over lake Atitlán, Guatemala
A friend and I were staying with a local family in San Juan, and got up at 2.30 one morning and together with a third friend and a guide with his dog took us hiking up the mountain La Nariz de Indio – the Indian Nose.
This is without a doubt the steepest hike I've ever done, and doing it in complete darkness with nothing but a pen light guiding my feet, it was a challenge to say the least.
We got up to the top a little too early, so we sat waiting for quite a while – so if you do this – bring warm clothes with you!!
Eventually the sky behind the mountains and volcanos were filled with amazing colors. My eyes were trying to take it all in but my heart could not get enough of this beautiful sight.