Travel Diary – Week 1
After missing my connecting flight that would eventually get me to El Nido in Palawan for New Years Eve, I got stuck in London. Which actually turned out to be the best thing that could've happened, because one of my friends was there too and we hadn't seen each other since September. Also, London is a pretty good place to celebrate a new year. It was 2 amazing days, and then I continued my route to the Philippines
Cebu
Arrived quite late, got into my room and within the first 5 minutes I knew I had some awesome roomies. Some of them were going to the falls down south and canyoning, but I felt too tired for an active day so I asked if anyone wanted to do an island hopping tour the next day. One of the girls, Nana, said she was booked on one and could ask if there was one more spot left for me and that we'd get an answer in the morning. There was a spot left and that's how I ended up on a Korean snorkelling tour! Luckily Nana translated everything important.
Nalusuan island & Marine sanctuary
This was our first snorkelling stop and when seeing the people snorkelling in shallow, leg-high water I thought – how could this be good?!
But it was actually one of the best snorkelling I've done when it comes to fish life. I'v never seen such strong and vibrant colours before. I also got to see Dory's and Nemo's. What I call "full moon party-fish" because of their glowing neon coloures in different patterns, and a shoal of striped fish, surrounding you when you got close. I also got attacked and bitten by a Trigger fish.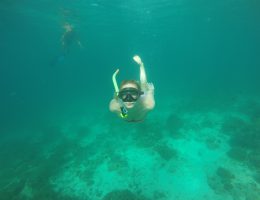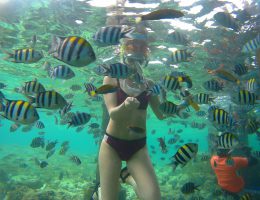 Pandanon island
Then we went to Pandanon island for lunch, which for me was rice with soy sauce, beer and then some fruit, as the only food served was different kind of meat – that's right. Not a single vegetable served with the food, only meat and rice. Fruit was really good though. After dinner we went to a reef and snorkelled there as well before heading back to town. Was tired and a bit jet lagged but an energy drink later and I went out for too many beers to remember with some of my hostel roomies.
The rest of the trip was spent working and trying to figure out a new route as my plans were changed due to the thick fog in London that made me miss my flight to El Nido. And this is a very busy high season, with almost everything – flights, tours, accommodation – fully booked. I decided to make my next stop El Nido in Palawan.
Manila
I had flight booked from Cebu to Puerto Princesa with a stopover in Manila, but then decided I didn't want to spend an entire day of traveling in a hot van so instead I got off my flight in Manila, and had a flight to Coron super early the next day. From there I wanted to do a boat and camping trip down to El Nido. The owner of the hostel I was staying at in Manila picked me up at the airport and took me to the house. The hostel is called Cozee Monkey and it has a very homey feeling. It was like everyone who stayed there within the first 5 minutes felt so comfortable like they were at home or at a friends. The night was spent drinking beer and playing games. The next morning me and 4 others got up at 4AM to catch our flights.
Coron
Flying over and into Coron was without a doubt the most beautiful view I've seen from a plane. In the middle of nowhere, hidden in a valley between luscious green hills lied the tiny airport. All I had heard about Coron was that it has good diving so I didn't expect the inland nature to be so gorgeous. I felt like I was flying into the island from the Disney movie Tarzan. I got off the plane and was greeted by smiles and men asking me where I was going. "Fat Monkey" I said, and they followed me to the right car. 150pesos and a beautiful and green, winding car ride later I got dropped off outside my hostel.
I arrived before 8 in the morning so I went in to town with some people from my hostel to get some coffee. We went to a café called Coffee Kong that had soy milk(!). I jumped out of joy and ordered both a cappuccino and a blueberry milkshake with soy milk. They were both equally as tasty. The coffee was really good and the first one I'd had in a while and the blueberry milkshake tasted like… heaven(in lack of a better word). We walked around the city and away from the center, we had lunch at a small local place, I also had time to work writing an article about the baltic countries, and found some incredible things to see as I researched for the article. Seriously – google Hill of Crosses in Lithuania and Rummu Prison in Estonia.
At dinner time, almost everyone from our hostel went for dinner together and then when we got back the owner had prepared to make a bond fire for us.
Boat tour Coron to El Nido
I was going to get picked up for the boat tour at 6AM but woke up just after 4 so I was ready long before that. Time went by too fast though, as the puppy Tequila kept me company and entertained my by running to the bigger dogs with those wobbly, unstable puppy legs, trying to provoke them to play with her.
There were 15 of us doing the tour together with Ricky our captain and 5 more crew members. I was the only solo traveler, as  the other 7 were couples, which surprised me as I find it so common for solo travellers to do these kind of tours.And by pure coincidence, 10 of the 15 of us were dutch.
Our first stop was a sand band close to Coron. When we got there I started laughing to myself cause it looked too good to be true. I truly could not believe my eyes. Then I jumped into the water and snorkelled my way over to the sandbank with the others. We had almost an hour just hanging out there but I still couldn't get used to the sight. As you see in the pictures below you might understand why. The day was spend cruising the sea, snorkelling, cruising some more, eating, snorkelling and eventually eventing started to close in and we got to our campsite for the night. The crew moved the tents and our things from the boat to the beach by kayaks and the rest of us swam to shore.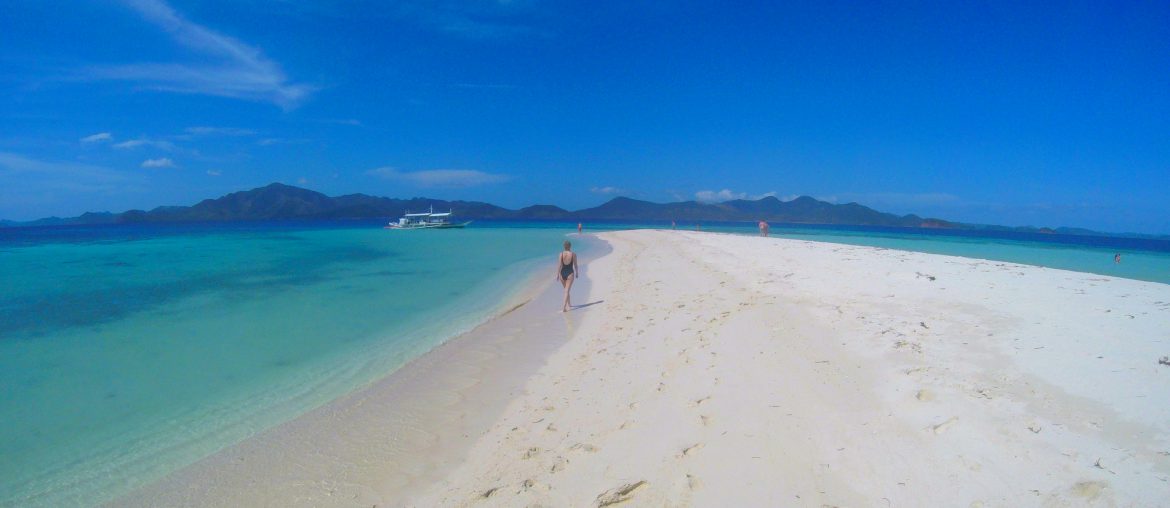 Even though I had felt a little sea sick during the day – it got even worse after I got on solid ground. While the others went into the village for an introduction of how they live there, I was forced trying to sleep my sea sickness off. Dinnertime came and I could get an orange down. Then I stayed up for the show the kids were going to give us. They were going to dance for us. I guess we all expected some sort of traditional dance, but where we surprised. On turned the music and it was pure disco music. The little children started to do club dancing. Rolling their hips, twerking and humping the air. Still to this day I am confused.
Two seasickness tablets, breakfast and I was ready to sail. An entire day filled with snorkelling and swimming in amazing places. We ending up on our own private beach on an uninhabited island. A bond fire, beer and dinner and then the sky gave us a show like we'd never seen before. Truly one of the most spectacular sunsets I have ever seen. After nightfall it was time to climb into my tent and go to rest. You get tired from exploring an entire day in the Palawan archipelago.