Sustainable christmas gift ideas

Most people care about our planet and their kids' future, but most don't know how. How do you give christmas gifts to your loved ones that are not made and given at the cost of the planet nor the people making the products?!
I'm here to help out with that. Here are;
15 Sustainable Christmas Gift Ideas
1. Give nothing
Yupp, that's actually one of the tips even though it's technichally not a gift. But hear me out!
Why does gifts even have to be a part of Christmas? Isn't it more caring to give someone a gift for no reason other than they want to – not because they have to?!
A lot of people already have everything they need, so why not just skip gifts all in all? Imagine a Christmas with zero stress about getting people good gifts. Maybe the absence of stress is a gift of its own.
2. An experience
Classic. Memories last longer than things. And this could be anything – big or small. It could be going to a restaurant together, going to a concert, museum or trying out a new sport together.
Maybe visit an animal sanctuary?! What animal lover wouldn't love the experience to get to hang out with animals for a day? Picture by: Rania Rönntoft of Northbound Journeys visiting Nathalie Nylén and her animals

3. Charity
Don't know what to get someone who has everything they need? Or to someone who doesn't want physical things?
Donate to a cause in someone elses name. I did this a few years ago, where I donated neseccities to people in need instead of buying things to my family members. The way I "gave" them the gift was showing them a video that was sent to me by the sorganisation, thanking them for their donation, telling them what the money went to.
So I will do the same – a video thanking for the donation and explaining what the money will go to on my fundraising att WWF.
All you have to do is send me a copy of the receipt of your donation –no matter how big or mall– to my email(as I can't see who donates what) and I will send back a video of me thanking for the donation and explaining what the campaign is about and how the money will work to prevent animal extinction.
You can donate here.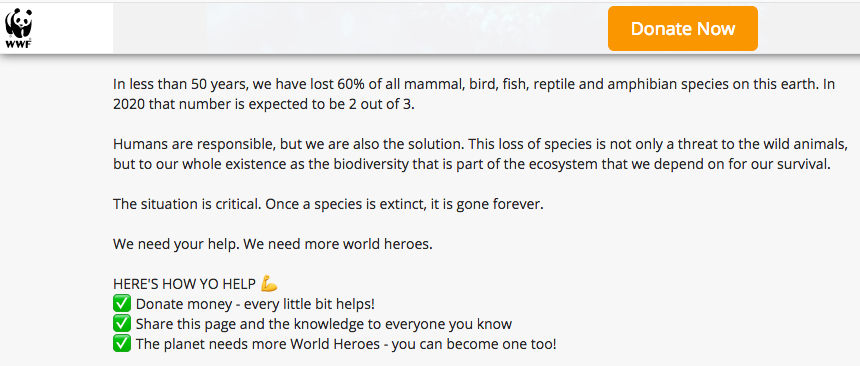 4. A sustainable trip
For the ones who have a bigger budget and want to give away not just any experience but a trip somewhere – give them a sustainable trip. Take the train somewhere and stay at eco friendly accomodation.
One place where you can find a lot of options and sort by location as big at continents and down to countries, as well as type of eco travel and what kind of eco-accomodation is Eco Companion. They have ready made tour packages but they can also make tailored trips just for you.
5. Christmas gift games
This is something that's become more and more common among the people I know, and I'm not sure if it's an age thing or if it's because people do want to avoid the stress of buying gifts, spending less money or just to avoid mass consumption.
There are different versions, here are some of them along with the rules:
Secret Santa
General rules:
Everyone's name is written down on a piece of paper and put into a bowl and mixed. Each person takes one piece of paper, and the person who's name is on the note is the one you buy a gift for. But you don't tell anyone who's giving who a present
When it is time for the gifts to be given, people can guess who gave them their gift – although this is optional
Christmas gift game
What you need:
1 dice
Timer
1 gift per person (decided beforehand on the budget of it)
General rules:
Everyone starts with one gift each that they've bought for the game. Take turn throwing the dice. When someone gets a 1 or 6, they get to change their gift with someone else. Set the timer on 10-15 minutes depending on how many people are in the came, of more if it's a big group of people. When the time runs out, the gift you're holding is the one you get to keep.
You can also if you want, do another round after the gifts have been opened. Whichever you find more fun – knowing what the gift is or keeping it a surprise.
There are different kind of variations of this game, and in some not everyone end up with one gift each, which is why I personally chose this one as I think it's nicer. Everyone's a winner.
Oven glove gift game
What you need:
Oven gloves/Mittens
1 dice
Timer
1 well wrapped gift per person
One person starts with the gloves/mittens on and the person who's next (depending if you go clockwise or counterclockwise) starts with the dice. When you start, the person with the gloves starts to try to unwrap the gift until the person with the dice get a 6, and then it passes so the person who had the dice gets the mittens and the person who'd be next after that gets the dice and will throw until they get a 6. This game continues until someone with gloves/mittens on gets the gift completely unwrapped.
If you want to do this game with everyone getting a gift, whoever gets a gift is out of the game until there are only 2 people left and the "loser" gets the gift that's left unwrapped. If not, some people can end up with many gifts and some end up with none. Depends on how competative you are.
6. Something etable
Homemade is not only luxurious but it's a gift that's often appreciated as most people love food. This also plays around with your budget – if you make something good but that doesn't need expensive ingredients, to making a whole basket of homemade goods or buying fancier vegan products.
This is also a good way to give away vegan treats – showing non vegans you don't have to give up good food to be vegan.
Some examples of what you can make yourself:
Nutella, marmelade, apple sauce, nut butter, bake cookies or cakes, vegan liquer.
You can also buy etables if you don't have the time to make it yourself. Vegan cheese, order proper vegan cakes or get a package of a bunch of different products that can be used in cooking and baking themselves but might feel to fancy for them to get themselves, like Nutritional yeast, coconut sugar, organic almond butter, chia seeds etc.
Everyone likes food
7. A book about sustainability or vegan cookbook
Maybe they're interested in these subjects but don't know how to?! Or maybe you want them to learn more and giving it to them as a gift will guilt them into reading it?!
Tips of books:
Eating animals – Jonathan Safran Foer
This changes everything – Naomi Klein
How Bad Are Bananas? – Mike Berners-Lee
Cradle to Cradle: Remaking the Way We Make Things – William McDonough, Michael Braungart
Swedish options: Svenska böcker om veganism och hållbarhet
Slow fashion: Din guide till smart och hållbart mode – Jennie Johansson, Johanna Nilsson
Ekoenkelt: Vägen till en hållbar livsstil – Pernilla Johansson
Naturskyddsföreningens guide till ett hållbart liv
Om inte vi, vem? – Jens Holm
8. Something you've made yourself
Do you like to make stuff? Wether it's sewing, painting or maybe making your own beauty products – make it for someone else. It can be anything really, but when you make it yourself you can customize it to be extremely personal.
And it doesn't have to be a physical thing. How touched wouldn't you be if someone had collected pictures and videos and made a little contribute video?! Or maybe a song or a poem? A book with stories of things you've done together. That shows appreciation more than any physical store bought product.
9. Second hand
Since 1988 HUI Research AB, owned by The Swedish Trade Federation have selected a "Christmas gift of the year". Some of the criterias are that the gift must reflect our time, is new or have been talked about a lot during the year that has passed and expected to sell either in large quantity or for a substancial price per piece.
From the first Christmas gift of the year being the Bread maker machine in 1988, to the flat screen TV in 2004 and the Robot vacuum cleaner in 2015 – the Christmas gift of the year this year, in 2018 is Recycled/Second hand Clothing.
10. A day where they have full veto
Wether it's a romantic relationship, friendship or family – it's not unusual to have some very different hobbies. Why not give them a day when they can chose exactly everything they want? What to eat for breakfast, lunch and dinner. Go to a concert? Watch their favourite movie? A day where they don't have to consider what you'll think of it but where you just do what they want for them.
I wish I'd get this from my parents so I could have them watch some documentaries I feel like they need to watch, but that they might not even chose to watch themselves.
11. Something reusable
Know someone who uses a lot of disposable products? Give them something that might be more expensive as a first investment so that they won't need to buy single use products again.
This could be things like water bottle, safety razor, coffee cup/thermos, bulk bags(these are easy to make yourself) – something that will reduce waste in the future.
12. Recycled or upcycled
A better option than buying things made from new resources – get things that are made from upcycled or recycled materials!
One of my favourite examples of this is jewellry. People who know me know that I LOVE rings and it's usually the one kind of souvenir I get from places I visit – if I find a local artisan or second hand/recycled pieces.
Some of my favourite jewellry designers happens to be both Swedish, female and make pieces from recycled silver.
Kelly Sui Silver
MNOP Jewelry (with the code "EARTH" you get 10% off)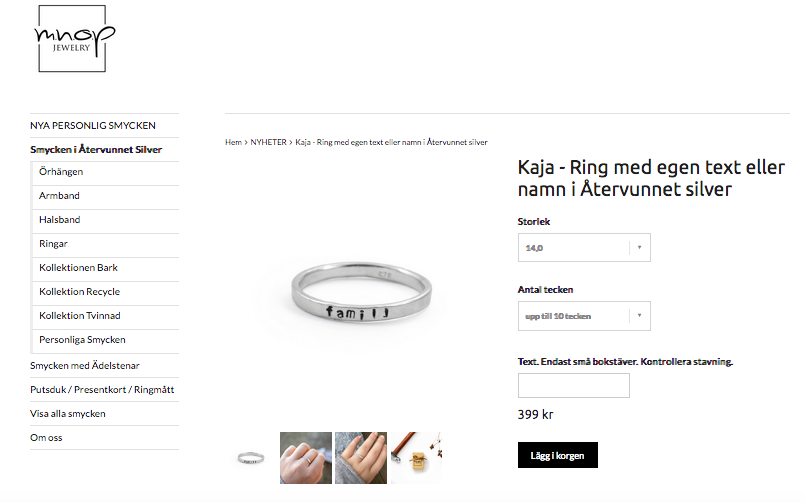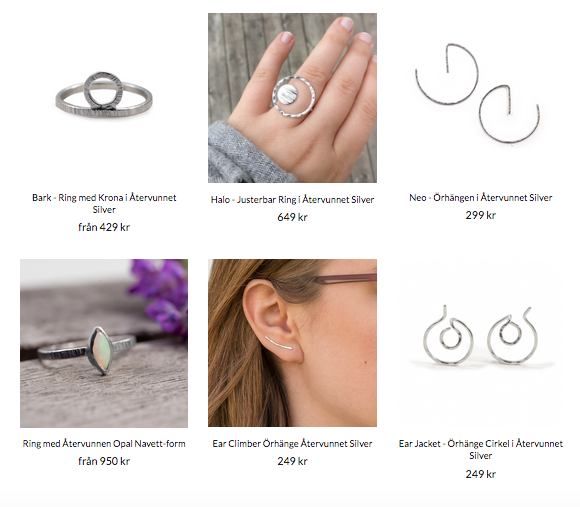 13. Plants or cuttings
Not only are plants pretty and cleans the air and in some cases, toxins and pollution in the air – they can often be expensive. So giving a living thing as a gift can be a great gift. Maybe you have plants yourself and can save the cutting of it, preparing them to be planted and give that as a gift? Completely free as well!
Or maybe you know someone who just needs to learn how to take care of something?!
14. Expensive necessity
For a lot of people who have it financially tough, might appreciate things they really need rather than something that's pretty. This can be things like a visit to the dentist, hair dresser, shoemaker or tailor to get shoes or clothes fixed by professionals.
Maybe the person you know really needs travel or health insurance, but can't afford it?
15. Donate your stuff to strangers
Why not go together with your friends and family and make gifts from things you no longer need and donate to those who have less? I'm sure with a quick online search you'll find somewhere in your town that accepts donated gifts to give out during christmas. Cause Christmas is a time of giving, not recieving – right!?
Here's an image that is good to keep in the back of your mind whenever you want or need to get something new. Wether it's for yourself or someone else.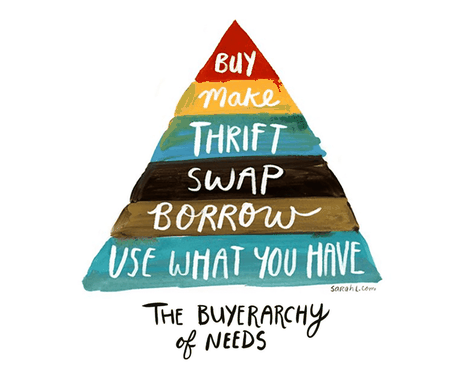 Do you have any other tips of sustainable christmas gifts?