Minimalistic packing on a 5 day trip
After I posted this picture of what I brought with me on my trip to Russia, Estonia and Finland(5 day trip) on Instagram, I've gotten a few requests to write down a list of everything I packed.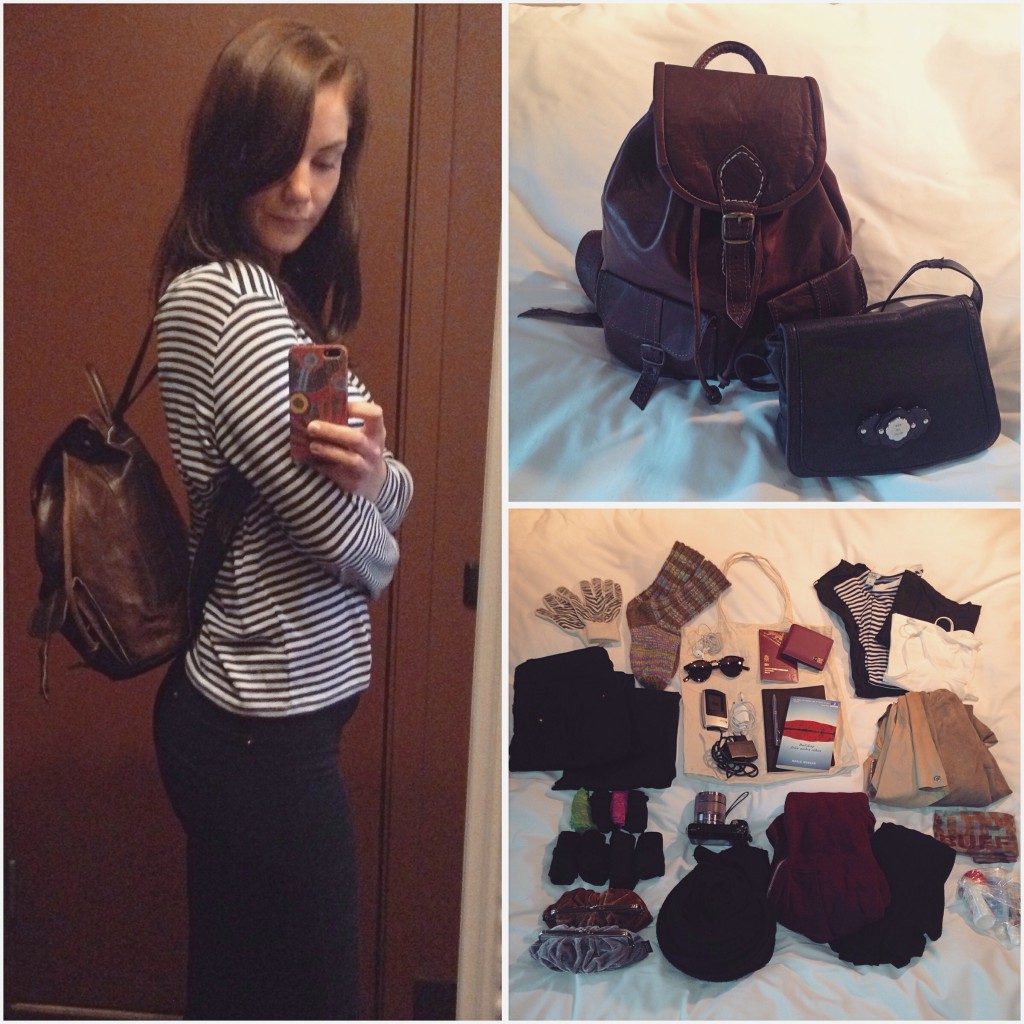 The bags:
Black purse
Mini backpack from a market in Milan
Essentials:
Passport
Wallet
Phone + charger + headphones
Compact system camera Sony NEX F-3 + charger
Ear plugs
My buff (best thing ever! I mostly use it as an eye mask)
Sunglasses
Canvas bag
Journal + pen
Book
Toiletries:
Deodorant
Travel toothbrush + mini toothpaste
Face cream
Antibacterial hand gel
Pills
Solid shampoo
Hairbrush
Hairbands
Toiletry case
Make up:
Powder
Eyelash curler
Mascara
Eyebrow pencil
Toiletry case
Clothes: (this includes all clothes I had with and on me)
Jacket
Big warm scarf (works as a blanket too)
Black jeans
Leggings
Hoodie
Cardigan
2 long sleeved shirts
2 tops
warm socks
5 undies
5 socks
1 bra
Gloves
Since it was quite cold, I would sometimes wear the leggins under my jeans, a top, a long sleeved top, a cardigan, hoodie, jacket, scarf and gloves, which means I basically just had my underwear, the socks, one top and one long sleeved top + the toiletry cases, canvas bag and the books in my backpack.
If I got too hot, I would simply pull out my canvas bag and put some of my clothes in there for a while until I might need it again.
The essentials where in my purse.
And I can honestly say that I brought more than I needed.
For example, I don't read when I travel this intense, so the book was just extra weight and space.
The antibacterial hand gel was also something I didn't use.
And as it is easier to use the phone for taking photos, I see my camera as nothing but excessive weight.
Since you can use your phone for everything these days, the journal and pen was not useful, but I love journals and writing lists etc. so I don't mind carrying it 🙂