Switzerland on a shoestring
So, we all know that Switzerland is a very expensive country. I flew to Genève and stayed there and in Lausanne for a total of one week.
Together with flight tickets, accommodation, train tickets and food, I spent just under 200€. How is this possible, you might wonder. Well, here are my tips and tricks from this trip:
1. Plane tickets
Since I look for tickets to everywhere on my free time, I have learned what the usual prices are to different locations. When I saw tickets to Switzerland for only 55€, that are usually 150-200€, I snatched it right away. Since my vacation is very flexible. I could book it without worrying about if I could take time off work or not.
2. Accommodation
I didn't spend a single euro on this(except on small gifts). I couchsurfed.
My first two nights in Genève, I stayed with a really nice gentleman who lived in a huge apartment quite central. After one night he had to go on a business trip, but he let me spend the next night there anyway and then left the key in his letterbox when I left. Yes, people are this kind and trusting!
I then went to Lausanne for a few days and there I stayed with a Russian couple who were studying in the city. They lived very central, so it just took 2 minutes to walk down to the water. Unfortunately they had a lot of work to be done, so I only had a short time with them in the evenings so I never got to know them that well. But they were very nice and they offered me dinner each night.
And then I went back to Genève and stayed with an awesome guy that I clicked with instantly! When I arrived, we went and left my stuff at his place and then he took me straight out to this art exhibition going on in the center of Genève. There were people and party everywhere, and art put up in old warehouses and shops. We drank beer and just mingled around.
The next day his girlfriend came to town and the three of us had an amazing night with more of his friends, with fondue and wine. I still talk to both of them once in a while.
3. Food
So, I was lucky enough to have very generous hosts, so I got dinner almost every night. So not much money spent there.
And every morning, I went to the grocery store to buy breakfast, snacks and lunch. The weather was so nice anyways that I wanted to eat outside, and the hidden places along the lake were more appealing to eat there, than in a crowded cafe in the city centers. And it is much cheaper, too.
4. Transportation
The trains in Switzerland was much cheaper than I had expected. Coming from Sweden where it is more expensive to take a one way train to Stockholm from Gothenburg(3 hours) than to get a return plane ticket to England, Germany or Italy, this came as a nice surprise.
The only trains I took was from and to the airport, Genève-Lausanne, Lausanne-Montreux and Montreux-Genève.
5. Activities
All my activities was free. During the days I would walk and walk and.. walk. And the art exhibition and outdoor parties were free! (Except for the beer..)
The best thing about this was the view, and that was free as well.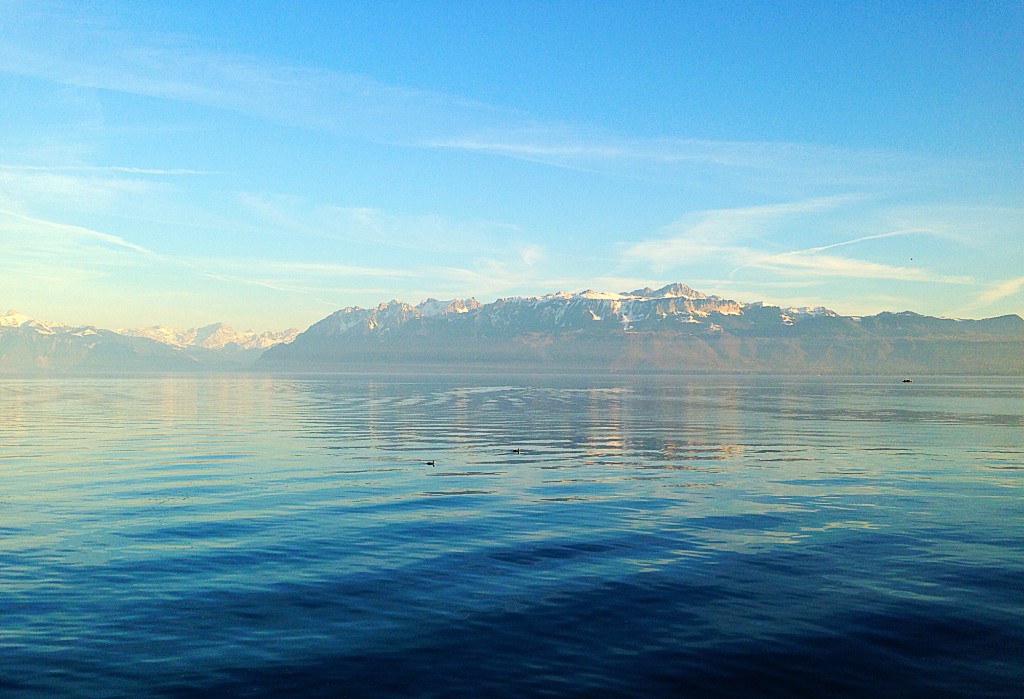 So an entire week in one of the world most expensive countries, including plane tickets, cost me less than 150€.
I exchanged for 200€, but used probably less than half of it. And since I had so much euros left, I just simplu had to go somewhere where I could use those money. The the first thing I did when I got back home was to book a trip to Paris.
And of course there are cheaper ways to travel. I didn't even have the mind set on saving money on this trip. It just kind of happened. If one has enough time, hitchhiking or carpooling would save even more money, and also, buying cheeper food. Even if I didn't go out to eat, I didn't really think about the money I spent in the grocery store. I got all sorts of nice treats. So basically, if you want to travel cheap, there are ways.
If you want something bad enough, you make it happen.