2016 travel recap
This year has felt very slow and low on the travel part for me. Especially compared to 2015 when I traveled to 20 new countries and went on some epic backpacking trips through New Zealand, the Balkans and Central America. However, someone made me realise that I will actually have visited 4 different continents this year.
While 2015 was a travel year dominated by amazing destinations, 2016 has been a travel year where I've valued relationships more than ever and I've met so many amazing people, and I now understand how important the people you meet are to your experience. I've met people that have inspired and impressed me, and I've made some very close friends that I will most likely keep for life. This is also the first year where I've experienced the magic of vacation romance.
But the biggest deal of this year when it comes to my traveling is that I have started being able to make a living off of it, and that I decided to go full on nomad, moving out of my apartment to take on the world. This is it. The turning point of me finally  fulfilling my biggest dream. A free life, exploring the world as a living.
Before we continue on my future – let's take a look at what travel's I've made this year.
Central America
Guatemala
When the fire works went off in the sky to ring in the new year, me and a couple of friends jumped into the lake from the jungle island we were staying. No new years resolutions. Perhaps I knew I was going to achieve my ultimate dream since I was already living a life where I pursued all my smaller dreams.
Honduras
A quick stop in Honduras, but I got to experience both the gorgeous countryside drenched in the colours of the sunset, and the chill island life on the paradise island Roatan.

Nicaragua
One of the most beautiful places I've traveled, and with the nicest atmosphere. This is a place I want to come back to and explore more and to settle down for a couple of months.


Costa Rica
Could be one of the most luscious countries I've ever seen. The fact that a country that relatively small offers both warm during beaches, jungle and cloud forests up in the mountains makes it even more impressive.

London for 2€ return
Not long after I got home from my trip in Central America, one of my best friends who is just as much of a travel nerd as me told me RyanAir had a huge sale on flights between London and Gothenburg. Said and done. I got tickets for me and my friend for a total of 4€. That's right! Nothing was added. 4€ for the two of us, to London and then back to Gothenburg.
Gdansk, Poland
With no trip in March I was going insane and I had to go somewhere. Somewhere new, but I was pretty broke after my backpacking trip through Central America. One of the cheapest flights you can get from my airport is Gdansk in Poland. After talking to a couple of friends who are in love with the city and go there several times a year, I was sold and went for a couple of days. A gorgeous city that offered some amazing vegan food, but this is not a destination I would recommend for solo travellers. I feel like it's a perfect place to go with friends.
Swedish summer
Helsingborg
It was my first time in this Swedish city. I went with my mom and we went on a picknick concert with Damien Rice, José Gonzales and Ane Brun. 3 super talented musicians and perfect summer weather. Also, I had no idea the city was as beautiful as it was! It really made me want to explore more of my home country. What else have I missed?
Stockholm
I take the train up to Stockholm quite often. Partially because my best friend lives there and also because I've been attending travel masses a few times this fall.
Stockholm grows on my every time I'm there.
Strömstad
In February I was up there with a couple of friend for a weekend, and in the summer I went up there for only one night with my parents. It's such a peaceful place.
Solo hiking weekend, Bohus trail
I took a weekend and hiked a total of 40km, putting up my tent somewhere in the middle to spend the night. It's one of my favourite experiences this year.
Läckö
I went to this beautiful castle by the water to see and opera with my mother and my sister, and we've already booked tickets for next year and then we will also stay at the super cool and modern hotel just by the water.
Rome, Italy
I was in Rome for a few days. My first day was exploring the city but the highlight was meeting the girls who were all expats in Rome. Au Pair, english teacher and diplomate. All of us with the shared love for travel. My trip to Rome also overlapped with my friend Leon for almost a day.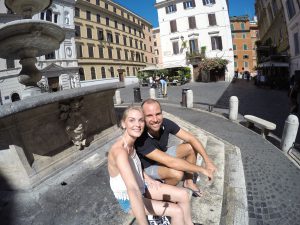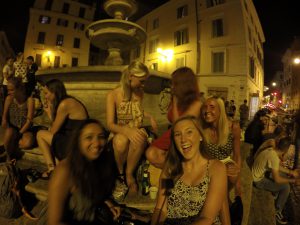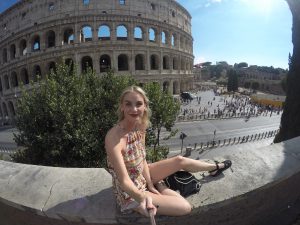 Romania
From Rome I flew to Bucharest in Romania. I went on a weekend trip with Bogdan, my guide at Book Tours Romania. After one day I had fallen head over heals in love with the country. Even though I was expecting beautiful nature, it was beyond what I could've imagined. It was like everything I loved about nature in one place.

London for a day
When you're a restless travel lover like me, and the flight tickets to London are super cheap, it's not a biggie to go to London for only one night to meet a friend before he moves to another continent. It's faster and cheaper to fly to London than to take a train to Stockholm.
Amsterdam, Holland – 3 y travelversary
The 26th of September 2013 was the day I went on my first solo trip and when I fell in love with travel for real. To celebrate that travelversary, I booked a trip to Amsterdam. A place that is a common destination for Swedes, and a place about an hour away by flight – and I still hadn't been there. Weather was perfect, my favourite band Ruby Empress just happened to be in Amsterdam for one night the day I arrived and I met some wonderful people. A good gift to me from me.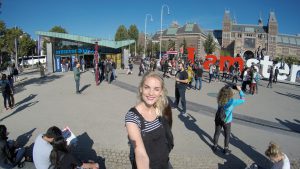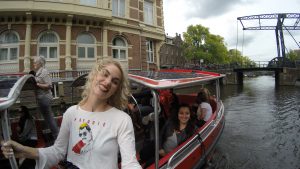 Eastern Europe
Lithuania
I started off my backpacking trip by flying to Vilnius, Lithuania. I stayed at this super cosy hostel with a fireplace and locally brewed beer. The old town was just as pretty as I was expecting, but what I liked most about the city was the atmosphere and the people.
Ukraine
Since we don't have a Belarusian embassy in Sweden, it's a hassle getting a visa, so instead of taking a train and visiting Belarus, I flew straight to Kiev, Ukraine. I met up with a local girl and we had a great evening with dinner and drinks. However, I didn't like Kiev, so I took a nights the same day to Lviv. And Lviv I loved. Cannot wait to go back there in the summertime. It was raining basically the whole time but that didn't even bother me, because walking around in the city I found a city that I really liked – and that's not very common!
Moldova
How lucky am I to arrive in the capital of Moldova, not only with perfect weather – in october – but on the 580th birthday of the city!? Together with a french guy, Johan, that arrived at the hostel the same time as me, we went to the main street that had shut of all traffic and had celebrations in all kinds of forms. Dancing, fighting scenes and singing. And Johan also happened to be one of the nicest people I've ever met. When we got back to the hostel, there were more people there and more lovely people. Never would I have thought that I would meet that many cool people in Chisinau, Moldova!
Transnistria
So you thought I was lucky arriving in Chisinau on it's birthday celebrations? So did I. But what are the chances that the day after, I go to Transnistria with a girl from my hostel – and it's the celebration of Tiraspol's birthday as well!? The main street was shut down there as well and there were many different forms of shows. Dog show, vintage car show and music show.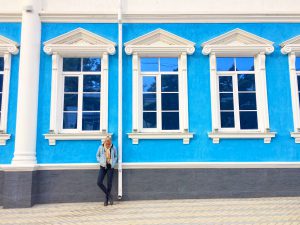 Romania
It was only for a night on my way to Bulgaria, but I am happy with whatever I can get. I do love Romania, and this time I stayed in another part of the city so I got to see a part of Bucharest I hadn't seen before.
Bulgaria
I arrived in Sofia and met up with Polina, a travel vlogger who I got in contact with through a Facebook group for people like us who make travel videos. We got along straight away and I feel like she's been a friend of mine for years! One of those I know I will see again. The first day she took me around the city, which was her hometown before she became a nomad. The next day I went to her parents place where they had kittens!
Istanbul, Turkey for a day
On my way to Tanzania, I had a 21 hour layover in Istanbul and I took the opportunity to go on Turkish Airlines free Istanbul tour. Middle of November and not a cloud in sight all day. I do have to say I am very lucky with the weather. Got to see so much in one day, and I am so happy that I finally got to see the city.
Zanzibar, Tanzaznia
My original thought was to just get a little taste of Tanzania and Kenya, but I started off in Zanzibar and stayed there the whole trip. When you see my pictures and my video, I guess you can see why.
Hamburg, Germany
I went on my first press trip this December and I went to Hamburg. It was to experience the Christmas markets but for me it turned out to be something else completely. I fell so much in love with the city itself that I almost forgot about the Christmas markets. And as you can see from the pictures, I got perfect cloud free weather on this trip as well. In Germany, in December.
 
The Philippines
No picture here yet – because I'm flying the tomorrow morning, getting there in time to celebrate New Years Eve. And the day after that, 1 January 2017, start off the year with no electricity or wifi, kayaking around small islands and camping on the beaches. What a perfect way to start off the new year.
What has your year been like? Any highlights?
What are your dreams or goals for the year to come?